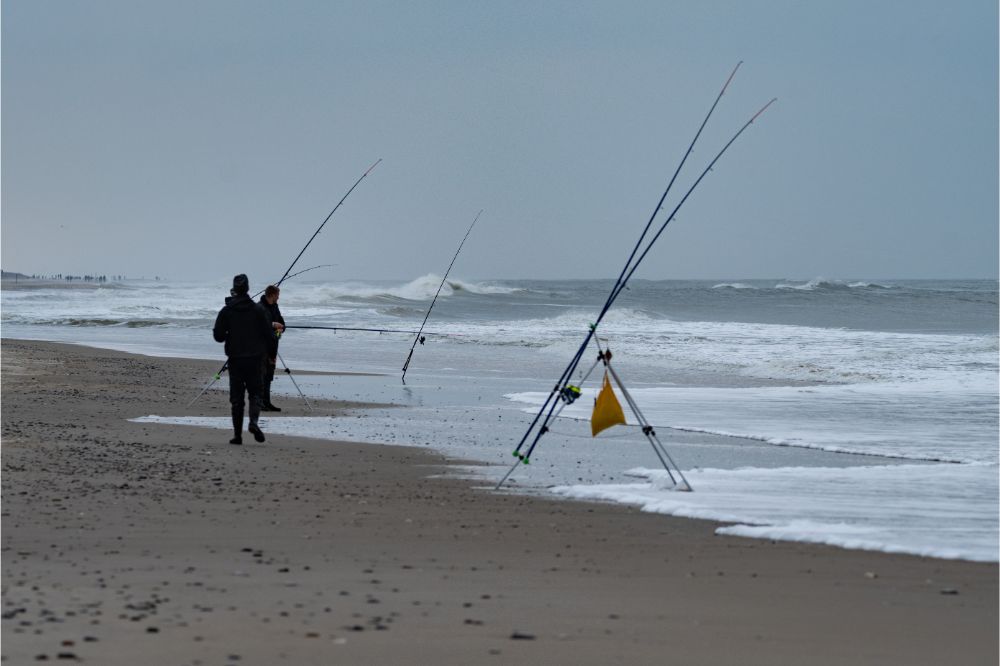 How to Shore Fish in California
Welcome fellow fishing enthusiasts! If you're looking forward to an experience fishing from the beautiful shores of California, you're in good company. This guide will walk you through the basics of shore fishing, introducing necessary gear, ideal fishing times, and sharing top fishing spots.
We'll also delve into the regulations and conservation measures, and end with valuable tips and tricks to make your shore fishing in California successful.
Understanding the Basics of Shore Fishing
Shore fishing in California offers a wonderful opportunity to connect with nature while chasing your angling dreams. Start by learning to differentiate between saltwater and freshwater environments, and understanding their respective fish species.
Knowledge of fish behavior is essential and it's beneficial to familiarize yourself with the techniques used in casting, baiting, and hooking. Furthermore, it's always good practice to check local regulations before embarking on any fishing excursions. Keep an open mind, be patient, and remember, every journey starts with a single step. Happy fishing!
Identifying the Fishing Gear Needed
You'll need the right fishing gear to efficiently shore fish in California. Key elements include a strong fishing line, captivating baits, sturdy hooks, comfortable fishing clothes, and a high-quality fishing rod. Don't forget your fishing license too!
Understanding the Best Times for Shore Fishing
In California, the best times for shore fishing usually depend on the species you're after. Generally, early mornings and late evenings are the most productive.
Tides also play a crucial role - during high tide, fish tend to come closer to the shore. Lastly, consider the season; some fish are more abundant in certain months.
Top Locations for Shore Fishing in California
When it comes to top locations for shore fishing in California, options abound. Seek out popular spots like the Santa Cruz Wharf with its plentiful halibut and Rockaway Beach in Pacifica, which is famous for striped bass.
Other gems include Manhattan Beach for perch fishing and La Jolla Cove known for sea bass. Explore and find your favorite for an amazing fishing experience.
Fishing in Northern California
Northern California also offers excellent shore fishing spots. You might want to try the Pacifica Pier for salmon or the rocky shores of Mendocino for rockfish.
Always remember to check local regulations and get the appropriate fishing license first.
Fishing in Southern California
Southern California boasts excellent shore fishing spots, like the Cabrillo Beach Pier and the Imperial Beach Pier. Catch sea bass, halibut, and bonito here.
Just ensure your gear suits your targeted species and you're aware of local fishing regulations.
Unique Fishing Spots in California
Beyond the popular fishing locales, the Californian Coast harbors unique spots for shore fishing. Visit Glass Beach in Fort Bragg where, instead of sand, colorful sea glass lends a whimsical charm. Or head to Alamitos Bay in Long Beach for calm kayaking fishing trips.
For lovers of rugged, rocky shores, Davenport Landing Beach is a hidden gem. Places like these offer a distinct experience while providing alluring fishing opportunities.
Understanding California Fishing Regulations
When shore fishing in California, it's important to be aware of and follow state fishing regulations. These include obtaining a valid fishing license, following size and bag limit rules, and respecting seasonal closures. You can buy a fishing license online or at a sporting goods store.
Specifics on limits and closures can be found on the California Department of Fish and Wildlife's website. Keeping these rules and regulations in mind ensures sustainable and ethical fishing practices.
Conservation Measures to be aware of
Maintaining California's vibrant marine ecosystem is crucial. Do your part by practicing catch and release, removing any litter, and respecting local marine life.
Adhere to limit restrictions and avoid disrupting habitats. Conservation keeps fishing sustainable for future generations.
Tips and Tricks for Successful Shore Fishing in California
To increase your chances of a successful shore fishing trip in California, there are a few key tips to keep in mind. Study the tidal flows as timing is everything – fish generally feed more at the change of tides. Choose your spot wisely, as different species prefer different conditions.
Stay patient and quiet to avoid scaring away your catch. Finally, always remember to check local regulations and carry the necessary permits – California is strict about protecting its aquatic life.
Choosing the Right Bait
Choosing the right bait can significantly impact your shore fishing success in California. Both live bait and artificial lures work well, though the best option varies depending on the species you're targeting and the time of year.
Proper Casting Techniques
It's crucial to learn proper casting techniques. An overhead cast generally works best for shore fishing. Keep your eye on the spot you want to hit and synchronize your arm and wrist movement for a smooth, controlled throw and a precision hit.
Conclusion
In conclusion, shore fishing in California offers a diverse and exciting experience to both novice and veteran anglers. With the right gear, bait, and casting techniques, and with respect to local fish conservation initiatives, you can make the most out of this amazing activity. So embark on your unique Californian shore fishing adventure today!
Key Takeaways
Remember, great shore fishing in California requires understanding the basics, knowing the regulations, employing effective tricks, choosing the right bait, and practicing proper casting.