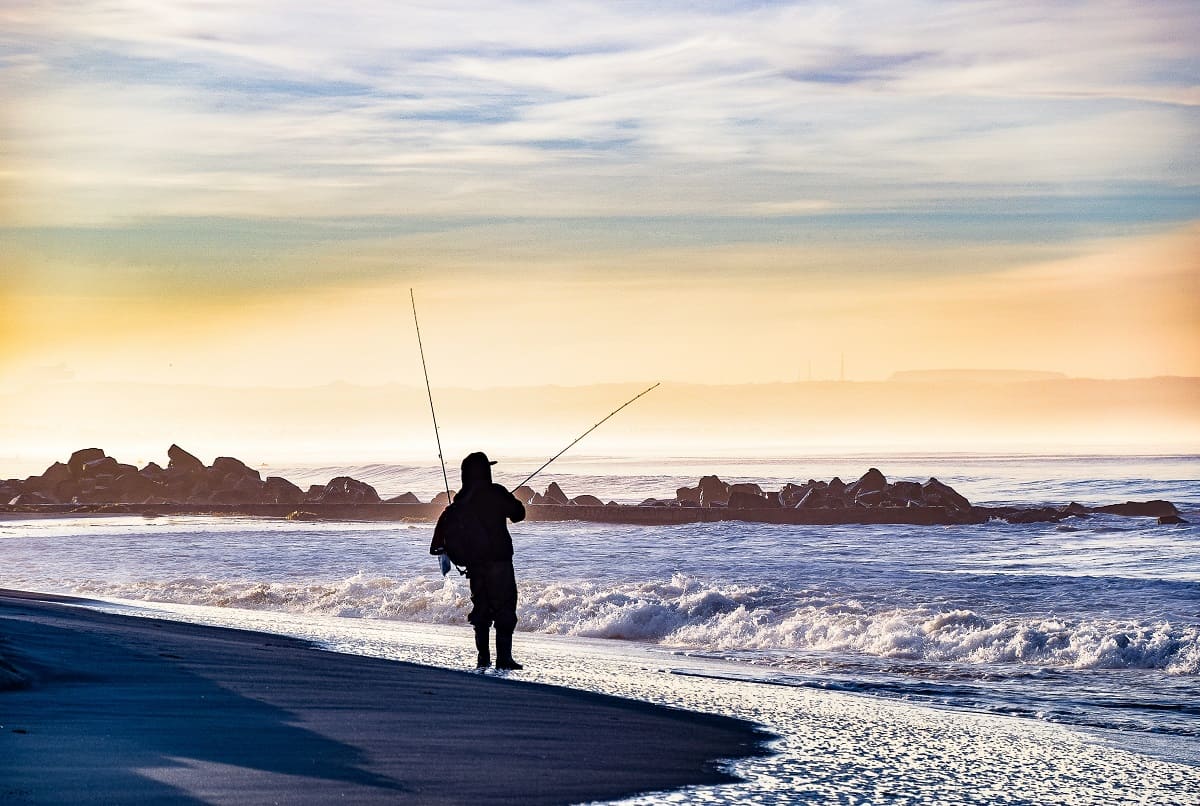 5 Best Places to Surf Fish in Southern California
There's so much to like about Sothern California beaches. The sand is warm, the view spectacular, and the beaches sprawl out into many miles, teeming with countless fish species. As the beaches reopen for recreational activities, you're probably looking for the best places to surf fish in southern California.
There aren't many beaches that won't appeal to anglers in Southern California. However, it's always good to check in advance before setting out. Here's a highlight of the best must-fish destinations that you should prioritize this season.
Where are the best places to Surf Fish in Southern California?
Here are some of the best places to go Surf Fishing in Southern California.
 Coronado Beach.
Silver Strand State Beach.
El Capitan State Beach.
Mission Beach.
Zuma Beach
Best Places to Surf Fish in Southern California
1. Coronado Beach
Coronado Beach is the home of surfperch fishing in Southern California. It's highly unlikely that you'll go home empty-handed or fail to catch a perch. The most common types are Walleye perch and Barred Surf Perch.
Other possible catches include corbina, small halibut, smelt, and yellow-fin croaker. It's best to fish in the early morning and right before dusk. This is when the tide is high, and the crowds are fewer.
It'll be a hard task to cast your line safely when people are wading and walking all around. The beach also tends to turn down its activity levels during winter.
The beach is free of structures, apart from one to the south right in front of the Hotel Del Coronado. There's also a small jetty of large boulders that curves into the surf. It provides a fantastic place to fish from when the tide is high.
2. Silver Strand State Beach
The Silver Strand beach lies between Coronado and Imperial Beaches. It's easy to access and usually has very few crowds. This flat, sandy State beach is home to plenty of croakers, corbina, guitarfish, and perch.
You also might catch some unusual fish species once in a while. The beach has no permanent structures, but sandy indents characterize the area. Troughs, scallops, rips, and deep pockets are characteristic of the beach, but this doesn't mean that it's a bad spot.
On its downside, the beach is located near the Mexican border, and, unfortunately, sewage runs off here. This has recently been a hot topic, and you can only hope that the issue will be sorted. Overall, the water looks good, and your success rate of catching your target is high.
3. El Capitan State Beach
El Capitan State Beach lies only 20 minutes north of Santa Barbra and bears a fair amount of local fishing pressure. This shouldn't prevent you from having the best fishing times as there's plenty of fish to catch. Avoid the masses by walking further towards the south of the Creek to a quieter spot.
As you head north directly in front of the car park, this sandy beach has a moderate slope into the surf. You can fish between the first two breakers as you walk along the beach in search of more surfperch.
Sand crabs are in plenty on this beach, and you can dig up a few to use them as bait. The big perch fish love sand crabs, and you can be sure to go home with plenty of harvests. You may also be lucky to reel in rockfish and the occasional halibut.
A vast area of this beach is sandy, but there's a predominantly rocky area near the shore. Take precaution lest you get hung up in the rocks.
If you want to make it to the beach early enough, consider staying in one of the numerous campsites. They're close nearby, and you can rise early or stay out late to fish. For a change of location, you could go to the nearby Refugio Beach.
4. Mission Beach
Mission Beach is a popular fishing spot for local surf fishers. It's an attractive beach with infinite amounts of sand for all recreational activities. Unfortunately for anglers, the large crowds it attracts may tamper with surf fishing.
It'll interest you to note, however, that much of the beach is unexploited. When fishing, plan your activities for the evening, probably through the night and until early morning. This is the time you'll avoid dealing with masses of beachgoers.
The Perch fish here seem to be bigger than anywhere else. You're also likely to pull some corbina, especially if you use sand crab as your bait. If you put in enough time and have the right gear, you might be in time to catch the heavy-gear fish.
To the north of Mission Beach is the iconic Sunset Cliffs shoreline. Fishing here is tough, but it's known for its Soupfin and big 7 gills for diving and surf fishing.
It's worth noting that Mission Beach can sometimes be smothered in seaweed. However, the full potential of the beach makes it an excellent spot, especially when the crowds are few.
5. Zuma Beach
Another one among the best places to surf fish in Southern California is Zuma Beach. It's located a short driving distance from LA and therefore attracts large crowds on summer weekends.
Fortunately, the prime time for fishing is from September through May. There are fewer people on the beach, and it's the best time to catch surfperch. With the long stretches of sandy beaches, finding the best fishing spot shouldn't be hard.
Consider parking at either end of the main beach and walking towards the area where the crowds are thinner. It's advisable to find spots with deep troughs and rip currents, which are ideal for fish activity. You won't walk long before you can find perch, but look out for other surfers and swimmers.
Fishing Licenses
There you go; a list of the best beaches for surf fishing in Southern California. Before setting out for surf fishing on Southern California beaches, ensure you check the fishing regulations.
You're required to have a fishing license to fish in coastal California waters. You can acquire the permit through the Department of Fish and Wildlife and at bait shops across the street.
Final Thoughts
As an angler looking for the best places to surf fish in Southern California, your search has come to an end. Each of the beaches mentioned here has something unique to offer. Surfperch are the most common species here, but you never know what else you'll drag when fishing in Southern California.