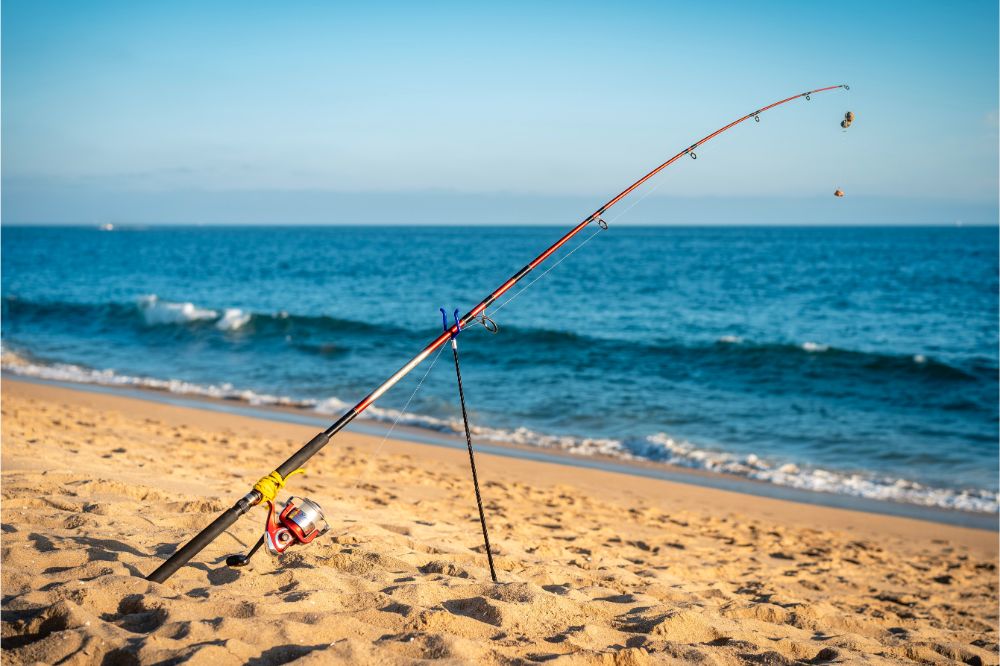 Top 5 Surf Fishing Reels for [2023]
A lengthy fishing rod, a small tackle box, and surf fishing reels are essential when getting started with surf fishing. Surf fishing can be challenging, and getting to the fish requires you to make long and accurate casts. The secret to having a great experience is being equipped with the right and reliable equipment – surf fishing reels being among them. Below we look at the top five surf fishing reels for an enhanced experience.
Comparison Chart
KastKing Megatron Spinning Reel,Size 3000 Fishing Reel
Dr.Fish Long Shot 12000 Spinning Reel, Saltwater Fishing Reel for Surf Fishing, 13+1 BBS, 48LB Max Drag, Ultra High Capacity, Heavy Duty Surf Casting Offshore Trolling Reel Catfish Reel
Diwa Spinning Fishing Reels 8000 10000 12000 Series Freshwater Saltwater Big-Game Fishing Surf Fishing 12+1 Stainless BB 70 LBS Max Drag Ultra Smooth Powerful Trout Durable Spinner Gear (Silver, 8000)
Sougayilang Spinning Reels 10000 Series Surf Fishing Reels,10+1 Stainless BB Ultra Smooth Powerful with CNC Aluminum Spool Fishing Reels for Saltwater Freshwater
HAUT TON Spinning Reel NGK-14000 Advanced Version,17+1BB Graphite Frame Surf Fishing Reels,4.8:1 Gear Ratio 55lbs Max Drag Medium/Heavy Long Casting Inshore & Offshore Saltwater Monster Fish.
Top 5 Surf Fishing Reels Reviews
KastKing Megatron Spinning Reel
This KastKing Megatron Spinning Reel is more than a regular lower-tier spinning reel. With it, you get some features you would not expect to get in higher-priced reels. The reel is perfectly suited for fishing large-sized saltwater fish that typically cause a strain on any reel's drag.
Review
The Kastking Megatron Spinning Reel is among the fishing reels that are affordable while still managing the challenges that typically accompany saltwater fishing, particularly along the surf. The reel has a special bionic engineering with a robust skeletal frame made of aluminum to enhance its rigidity and strength.
The gears are also made using zinc alloy and solid brass, allowing them to withstand tough conditions, including the challenges of tournaments.
It features a 7+1 shielded stainless steel ball-bearing assembly that gives it smooth action when casting and retrieving some lures and heavy rigs.
PROS
Sealed stainless 7+1 steel ball bearings

Designed for pure power

Max drag of up to 40 lbs

Affordable
CONS
Rougher retrieve despite smooth casting
CHECK LATEST PRICE ON AMAZON.COM
Dr. Fish Long Shot Spinning Reel
This spinning reel is a large option perfectly suited for big game and surf fishing. Thanks to the reel's corrosion-resistant body and high density, you can readily take it to repeated fights against the most fierce undersea monsters.
It is large and strong with an unexpected max drag of 48 pounds to place you in a better place when large fish bite. The steady gear 3.8:1 ratio offers you greater torque, giving you an advantage during tournaments.
Review
The handle of this spinning reel is rigid and machine-cut to offer you leverage over giant saltwater fish with enhanced torque. The handle is ergonomic to ease fatigue, thereby lasting longer in battles.
Left and right are interchangeable with this reel. It has a ceramic line roller to reduce the friction between the line and the reel, giving you a considerably smoother feel as you cast. The reel body construction utilizes high-density graphite to offer the corrosion resistance and strength needed for saltwater fishing.
PROS
Easy and smooth retrieval system

High maximum drag capacity

Effective with heavier lines

Enhanced CNC aluminum handle

It is bulky and rather heavy
CONS
It is bulky and rather heavy
CHECK LATEST PRICE ON AMAZON.COM
Diwa Spinning Fishing Reel
The Diwa Spinning Fishing Reel provides you with absolute power. You will appreciate the KCN's reliable, smooth triple-disc aluminum alloy and strong brass pinion gears. There is also an oversized stainless steel main shaft for extra fishing power.
The new design of the Diwa spinning reel looks amazing and is built rigidly to catch trophy fish in different fishing conditions, such as freshwater and saltwater. The fishing reel is lightweight and constructed with a graphite rotor and body.
Review
The Diwa spinning reel has a KCN Intrusion Shield System acting as a seal with a special protective water-resistant design for its body, spool, and rotor KCN intrusion Shield mechanism. This helps keep dirt and water out, allowing you to stay in action even after your reel dunks accidentally.
You will be surprised by how quiet and smooth the reel retrieval is. In addition, thanks to the special aluminum spool, you get the advantage of extra line capacity to hunt bigger fish.
Other notable extra features of this reel include saltwater-rated double-shielded stainless steel ball bearings, 12+1 superior quality, and instant lock anti-reverse. It also has an aluminum handle, stainless steel hardware, and a great line capacity compared to rival brands.
PROS
Excellent for all fishing conditions

Incredibly smooth

Added power

Has the KCN intrusion shield system
CONS
Reduction in reel strength over time

Too large for some users
CHECK LATEST PRICE ON AMAZON.COM
Sougayilang Spinning Reels
If you are budget-constrained, the Sougayilang Spinning Reel is the spinning reel for you. It will fit you perfectly as it is among the most affordable reels in the market that still guarantee top performance.
The fishing reel has special features, such as the CNC aluminum spool with awesome tensile gear, and it can accommodate extra fishing lines. It also has a dynamic rotor with an enhanced drag system to provide great stopping power.
Review
This surf fishing reel has a carbon drag mechanism that boosts the drag's smoothness while reducing fishing line breaks. There's also a corrosion-resistant ball bearing that ensures the reel has extended durability.
The gears, pinion, and mesh drive included are of superior quality. This is important in helping you overcome fighting fish. In addition, you can get it in various sizes depending on your fishing requirements. The wide array of sizes ensures you can go fishing wherever you want, be it in small areas like streams or ponds or large spaces like oceans and seas.
PROS
Great line winding

Excellent line oscillation system

Metallic line spool

Collapsible wooden handle

Ideal for left and right-handed people

It has a dynamic rotor
CONS
Prone to line bailer wobbling and loosening
CHECK LATEST PRICE ON AMAZON.COM
HAUT TON Spinning Reel
The HAUT TON spinning reel has a graphite frame with highly sensitive conductivity making it ideal for big game fishing offshore. The frame of this surf reel is constructed using string conductivity graphite material, making it perfect for big game.
This spinning reel has a patented design that lets it slide up and down to mount accessories. When you rotate its rotor up and down, there is a square slot on either side meant to prevent shaking up and down of the spool.
Review
This is a powerful spinning reel with a maximum drag of 55 pounds. It also packs double-sealed 17+2 precision Sus ball bearing and carbon brake washers for added power. The gold and grey aluminum complements the reel's enhanced spool capacity.
It complies with aerodynamic rotation centrifugal force characteristics to minimize air resistance while making it more fashionable.
The drive gear features are made of zinc alloy with the pressing process, quenching treatment, and cold forging, maximizing the material's strength. The drive gear is also resistant to low temperatures and seawater corrosion for enhanced performance.
A line alarm designed using carbon material helps control the fishing reel and get maximum drag from the reel. This feature is also handy for quick retrieval of the fishing line.
PROS
Perfect for big game and offshore fishing

Elevated capacity stool

Patented design

Ability to fix accessories by sliding down or up

Aesthetic and lightweight
CONS
Bail requires manual closing

Turning the bail is hard as you start reeling
CHECK LATEST PRICE ON AMAZON.COM
FINAL VERDICT
Robust reels come in handy during surf fishing and can cast further than usual. Our list includes five reels tailored toward surf fishing and hunting big game with ease. The reels are made of durable materials with enhanced strength to ensure they can withstand the rigors of fishing and the corrosion of seawater. Pick one today and enjoy your fishing tournaments and expeditions.