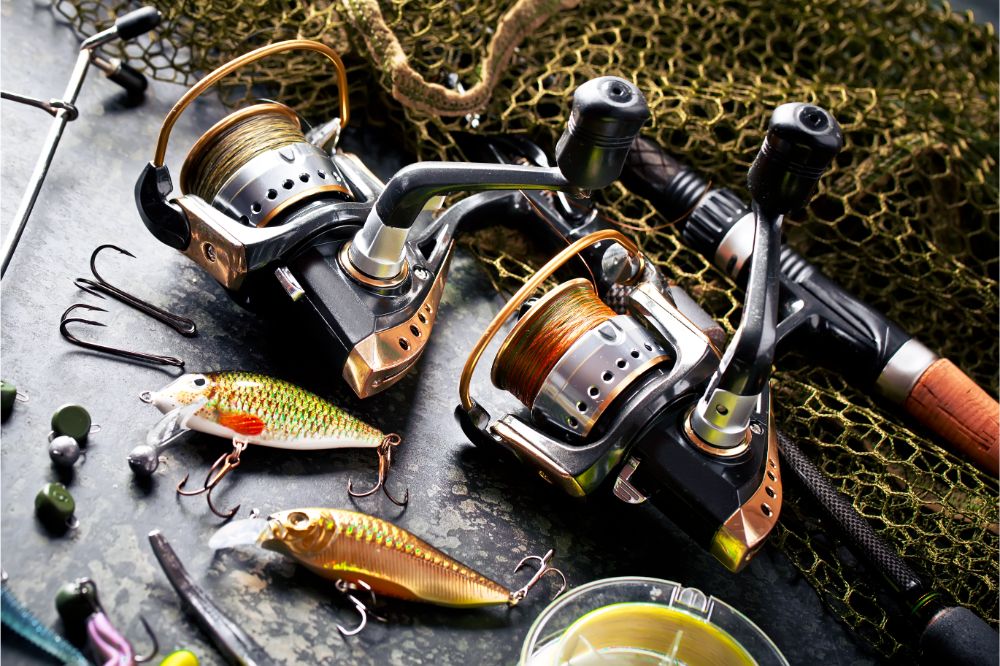 Top Five Saltwater Spinning Reels for 2022 – Complete Review With Comparison
Fishing has always been a common activity for both economic and recreational purposes. Many people rely on this activity to put food on the table, or to simply have a good time with their families or alone. If this is the case for you, then it is time to consider getting a good spinning reel for these occasions.
It would help if you had the right tools to enjoy any fishing activity, including the ideal spinning reel. There are different types of reels available, each meant for specific types of fishing. In this review, we are going to look at some of the best options available that are easy to use and quite effective.
What are some of the best Saltwater Spinning Reels for Surf Fishing?
Many surf fishermen consider these spinning  reels among the best available, the Penn Battle II & III, the Seaknight  Rapid spinning reel, the DR Fish saltwater spinning reel, the Daiwa BG 3500 saltwater spinning reel, and the Shimano Saragosa SWA saltwater spinning reel.
Comparison Chart
PENN Battle II & III Spinning Fishing Reel (All Models & Sizes)
SeaKnight Rapid II Saltwater Spinning Reel
Dr.Fish Saltwater Spinning Reel Carbon Fiber
Daiwa BG3500 BG Saltwater Spinning Reel
Shimano Saragosa SW A Saltwater Spinning Reel
Spinning Fishing Reels Reviews
PENN Battle II & III Spinning Fishing Reel
Consider the PENN Battle II & III Spinning Fishing Reel like your armor as you fish in any body of water. The machine is a product made of durable materials and includes other fish-fighting features to make the adventure enjoyable.
Review
It consists of a full metal body, side plate, rotor, and heavy-duty aluminum bail wire that guarantee maximum durability. Also, there are five sealed stainless steel ball bearings that work hand in hand with the other features to assist you in landing your catch.
The machine features an HT-100-Versa-Drag carbon fiber drag system that helps leverage both sides of the drag washer, providing maximum drag. In addition, these drag washers are treated using proprietary grease to enhance long-lasting performances. An anti-reverse bearing also eliminates pullback, allowing you to reel with minimum interruptions.
The PENN Battle II & III Spinning Fishing Reel has a Superline spool that requires no backing. It is braid-ready and its line capacity rings have marks at 1/3, 2/3, and full capacity. The spool is also fitted with a rubber gasket to prevent the Superline from slipping when under pressure.
The higher capacity models tend to be heavy for some fishermen.
Seaknight Rapid Saltwater Spinning Reel
Here is an amazing spinning reel that is known for its anticorrosive coating, making it ideal for saltwater use. This machine is a fast and powerful tool, perfect for inshore fishing and catching walleyes, catfish, and northern pike.
Review
The Seaknight Rapid Saltwater Spinning Reel is a product of exquisite craftsmanship and advanced production technologies. The machine consists of quality bearings that create a smooth reel.
The main features of this tool are the enhanced main shaft, stainless ball bearings, and the carbon fiber drag system. It also has an aluminum spool and rotor structure that protects the gear from water and sand.
It has an updated asymmetrical design that makes the arm in the roller end thicker, forming a triangle torque. This makes it lighter and gives it a powerfully smooth operation. However, the shaft of this machine is made of plastic. Therefore, it is not suitable for catching huge fish.
Dr. Fish Saltwater Spinning Reel
The Dr. Fish Saltwater Spinning Reel is a machine specifically designed for saltwater. You'll love its higher line capacity that allows you to achieve your desire of a longer catching distance. It also features strong mono and braids to help you catch bigger fish.
Review
Dr. Fish Saltwater Spinning Reel has side plates and a rotor that adopts the Dr. Fish Graphite-S to raise the reel's strength by 20% and promotes a higher anti-corrosion performance. There are also shielded ball bearings that encourage silky smooth casting.
The reel helps you make a powerful and precise retrieve. This is through a triple carbon fiber drag system that is precise. There is a ceramic roller present that fits the heavy braids without causing any damage to the lines.
This reel features advanced one-way instant lock technology on the Type-L Aluminum handle and air knob that minimizes power waste and promotes efficient power transmission. It is important to use the manual to understand how the machine works, especially for a first-time user.
Daiwa BG3500 BG Saltwater Spinning Reel
The Daiwa spinning reel is arguably the best in the BG series. This tool just got leaner and meaner to help you land that big catch.
Review
The Daiwa BG3500 BG Saltwater Spinning Reel consists of a black anodized machined aluminum housing for strength and stability. This feature is what makes it resistant to scratches and corrosion.
An oversized Digigear system increases the tooth contact areas in the gear, which leads to a smooth and prolonged gear life. This feature increases torque and generates more power.
The machine also features a solid screw-in handle that allows no movement in the area around the gear and the reel's handle end. This then offers the anglers more control as it rotates the handle.
You'll love the featured air rotor on this reel that weighs 15% less when compared to other standard rotors. It has a unique shape that reduces weight and distributes stress evenly, thus promoting maximum strength. The main concern about this reel is that the metal components used cause a metallic noise, especially when it gets older.
Shimano Saragosa SWA Saltwater Spinning Reel
Do you need a spinning reel that features IPX8 water resistance capabilities? If yes, the Shimano Saragosa SWA Saltwater Spinning Reel is the ideal tool for you.
Review
This reel features enhanced capabilities and features such as the updated main shaft that improves the machine's winding torque by 30%. This allows you to enjoy faster line retrieval at the HG ratio, but with equal power as a PG.
The spinning reel also includes an X-Protect feature that combines the water-repellant coating and special water channeling construction to promote higher water resistance.
Another amazing component is the Hagane gear located at the center of the reel that offers long-lasting smooth performance. In addition, there is cold forging technology incorporated to calculate the whole surface in thorough detail through the help of a unique 3D design. A cross-carbon drag provides more drag settings and promotes the smoothest drag performance.
It is best to use your Shimano Saragosa SWA Saltwater Spinning Reel correctly and service it regularly. Failure to observe this can lead to the machine breaking or causing other features not to function properly.
Conclusion
You need a good fishing reel to catch fish and enjoy any fishing session. Having the right reel by your side makes all the difference, leaving you happy with the results. The reels mentioned above are some of the best you'll find, so go ahead and choose one that suits your needs.
What are the Top 5 Surf Fishing Spinning Reels?
For 2022 the Top 5 Surf Fishing Reels are the Penn Battle II & III Spinning Reels, the Seaknight Rapid Saltwater Spinning Reel, the Dr. Fish Saltwater Spinning Reel, the Daiwa BG 3500 BG Saltwater Spinning Reel, and the Shimano Saragosa SWA Saltwater Spinning Reel.