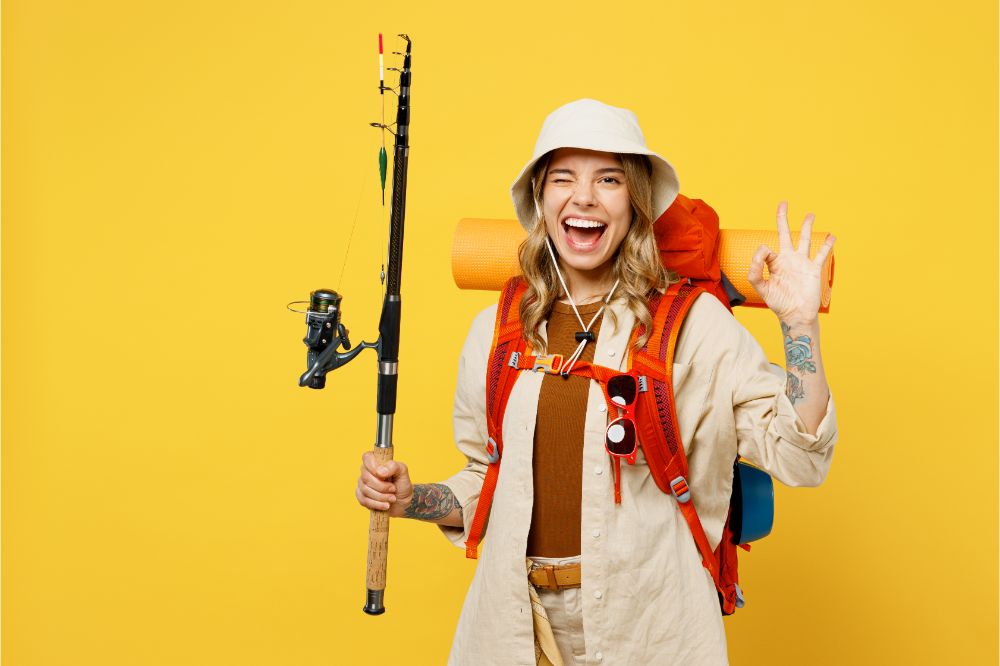 Top 5 Travel Surf Fishing Rods for [2023]
Welcome to our "Top 5 Travel Surf Fishing Rods for 2023" article! Surf fishing is a popular pastime for many anglers, offering a unique and enjoyable experience. However, finding the right travel surf fishing rod that combines portability, strength, and durability can be challenging.
To help with your search, we have researched and narrowed down the top travel surf fishing rods based on performance, build quality, and user reviews.
Stay with us, as we take you through the features, pros, and cons of our top picks.
Comparison Chart
Goture Surf Spinning Fishing Rod – 4 Piece Graphite Fishing Rod Portable Carbon Fiber Travel Surf Rod – 9ft Surf Rod
OKUMA VSS-S-1004H Voyager Signature Surf Travel Rods, Black, 10′ H
BERRYPRO Surf Spinning Rod Carbon Fiber Surf Rod Travel Fishing Rod (9'/10'/11'/12′) (12′-Spinning-2pc)
Daiwa Ardito-Travel Rods
S Max. Big Fish Powerful Predator Surf Travel Fishing Rod + 2 Tips Hi-Carbon 11' 10" & 10' 7" Options Compact Rod 23" Case 26" Cast W 3.5+6 oz
Travel Surf Fishing Rods Reviews
1. Goture Surf Spinning Fishing Rod
The Goture Surf Spinning Fishing Rod is a four-piece graphite fishing rod that offers a portable and versatile option for anglers who enjoy surf fishing. It comes in various sizes ranging from 9 to 14 feet in length, with medium to heavy rod power and fast rod action. This makes it suitable for targeting a variety of fish species such as pompano, flounder, striped bass, bluefish, spotted sea trout, and red drum.
Constructed from 30 41T carbon fiber, the rod is lightweight yet durable, which means anglers can surf fish all day without experiencing fatigue. The reinforced carbon ribbon on the tip of the rod also adds to its durability and ability to handle extreme conditions in the surf.
The rod features corrosion-resistant K guides with SICS ceramic inserts, ensuring smooth and long casting without friction. The premium SIC ceramic insert also enables the line to glide through with ease. Additionally, the custom ergonomic EVA handle offers comfort and grip even in challenging surf fishing situations.
With a one-year warranty against any defects, anglers can rest easy knowing the Goture Surf Spinning Fishing Rod is a cost-effective and reliable option. Its excellent design, precise data calculation, and strong performance make it an ideal choice for both bait and lure fishing duties, with the power to handle fish in the surf.
PROS
Compact size makes it perfect for travel and fits in overhead compartments

High-quality construction with a sturdy, lightweight design

Easy to assemble and disassemble with a 4-piece design

Versatile, as it can handle a variety of lures and bait weights

Great for casting live baits over the surf and catching larger fish

Excellent value for the price, offering performance at an affordable cost

Comfortable handle with a nice grip and foam
CONS
Slightly more expensive than some other options, though the quality justifies the price.

Four-piece design may be unusual for some, but this adds to the rod's portability.

Occasional difficulties with parts becoming stuck, but can likely be resolved by contacting Goture's customer service for assistance.
CHECK LATEST PRICE ON AMAZON.COM
2. OKUMA VSS-S-1004H Voyager Signature Surf Travel Rods
The OKUMA VSS-S-1004H Voyager Signature Surf Travel Rod, a 10-foot heavy-duty black rod, is designed for the serious surf angler. Made with 24-ton carbon rod blanks, this rod is light and responsive, allowing for effortless all-day casting. The Fuji Tangle Free guide frames with FazLite inserts ensure smooth line movement and minimize any potential snags.
The Voyager Signature Surf Travel Rod also features a Fuji DPS reel seat design, offering maximum reliability while on the go. The comfortable non-slip shrink tube and EVA fore and rear grips provide added stability during long casting sessions. With its durable design and high-quality components, the OKUMA Voyager Signature Surf Travel Rod is an excellent choice for any surf angler looking for a rod that is built to last and perform at a high level.
PROS
High-quality construction and design

Feels like a one-piece rod

Equipped with premium Fuji components

Lightweight and portable

Comes with a durable hard tube case

Versatile for various fish types
CONS
Slightly larger pack size

Potential durability concerns with more use

Possible issue with casting, as one user experienced a tube coming loose while casting (although this may be an isolated incident)
CHECK LATEST PRICE ON AMAZON.COM
3. BERRYPRO Surf Spinning Rod Carbon Fiber Surf Rod Travel Fishing Rod
The BERRYPRO Surf Spinning Rod offers impressive sensitivity and power, thanks to its high-quality X-Carbon technology blank construction. With enhanced stainless steel fishing guides featuring ceramic rings, the rod provides a smooth cast and reduces friction between the line and guide. These guides are precisely aligned along the bottom of the rod's spine, ensuring maximum sensitivity during long casts.
With a high-strength reel seat, non-slip shrink tube design, high-density EVA grips, textured carbon fiber rod surface, and anti-wear rubber cork butt cap, the BERRYPRO Surf Spinning Rod ensures comfort during your fishing adventures. Additionally, the rod boasts a unique new design that combines toughness and flexibility perfectly. The rod is backed by a one-year warranty, providing peace of mind for anglers who choose this product. Enjoy excellent performance, exquisite workmanship, and the power to handle big surf duty with the BERRYPRO Surf Spinning Rod.
PROS
Slim, strong, and lightweight design with carbon fiber construction

Versatile rod that can be used for surf, river, and trolling fishing

Impressive casting distance and sensitivity

Comes in multiple length options to suit various fishing styles (9′, 10′, 11′, 12′)

Well-priced and reasonably priced compared to other rods in its class

Responsive and handles large fish well

Well-built with a reputation for durability and high quality
CONS
Some users may find the 2-piece design a bit disappointing.

A small crack may be present at a connecting piece, though it doesn't seem to be a widespread issue.

Reel seat may not accommodate larger saltwater spinning reels.

Threads and wheels on the reel could be sturdier if made of metal instead of plastic.

Some users may be surprised by the length of the rod, but it's designed for longer casting distances.

Currently, no 8-foot option is available for those who prefer shorter rods.
CHECK LATEST PRICE ON AMAZON.COM
4. Daiwa Ardito-Travel Rods
The Daiwa Ardito-Travel Rod is a fantastic option for anglers who need a high-quality, portable fishing rod for their adventures. This rod is constructed with Daiwa's exclusive HVF (High Volume Fiber) Graphite, ensuring durability and strength without compromising on flexibility. The X45 Bias Graphite fiber construction eliminates blank twist, while the V-Flex Ferrule Joint System allows for seamless connection between rod sections.
The Fuji Aluminum Oxide Guides ensure smooth line movement and the semi-hard travel case protects your investment during transport. Daiwa has a 60-year reputation for producing some of the most advanced fishing gear in the world and the Ardito-Travel Rods are no exception. These multi-piece travel rods offer the quality and sensitivity you need on the go, providing a top-notch angling experience regardless of where your travels take you.
PROS
Great for catching a variety of fish

Excellent as a gift for fishing enthusiasts

Portable and suitable for trips and vacations

Positive experiences reported by users
CONS
Some users experienced breakages at the tip

Section length might be longer than preferred for a travel rod

Guides are made of plastic instead of ceramic

Quality may vary between individual rods
CHECK LATEST PRICE ON AMAZON.COM
5. S Max. Big Fish Powerful Predator Surf Travel Fishing Rod
The S Max. Big Fish Powerful Predator Surf Travel Fishing Rod is the perfect solution for anglers on the go who want a compact and powerful rod. Designed in the English Lake District, this travel fishing rod brings you the convenience of having a rod that packs down to 23 inches in length and comes with a 26-inch case.
The two-tip design offers versatility, with 11'10" and 10'7″ rod length options, providing cast weights of 50-100g and 80-170g. Made from high-quality materials, the rod features a hi-carbon blank, graphite reel seat, EVA handle, and stainless steel silicone eyes. Built to withstand regular use, the sturdy hi-carbon blank and unbreakable solid fiberglass tip ensure that you can tackle substantial fish with confidence.
Additionally, the rod comes with a rugged Cordura travel case for easy transportation. Finally, the two-year guarantee ensures you receive either a replacement or a refund if any issues arise, making it an ideal companion for all types of fishing adventures.
PROS
Highly portable and packs easily

Lightweight

Suitable for surf fishing

Fits into carry-on luggage

Responsive and easy to cast

Excellent customer service from the company

Comes with 2 tips for different lure weights

Durable and strong
CONS
Slightly heavy for surf spinning

Skinny handle might be difficult for individuals with large hands

Sections sometimes twist (but can be easily readjusted)
CHECK LATEST PRICE ON AMAZON.COM
FINAL VERDICT
Choosing the perfect travel surf fishing rod is all about balancing your personal preferences and fishing style with the rod's functionality and durability.
The Goture Surf Spinning Fishing Rod, OKUMA Voyager Signature Surf Travel Rod, BERRYPRO Surf Spinning Rod, Daiwa Ardito-Travel Rod, and S Max. Big Fish Travel Rod all offer unique features that cater to different anglers.
With a bit of research and careful consideration, selecting the ideal travel surf rod should be an enjoyable and rewarding experience.