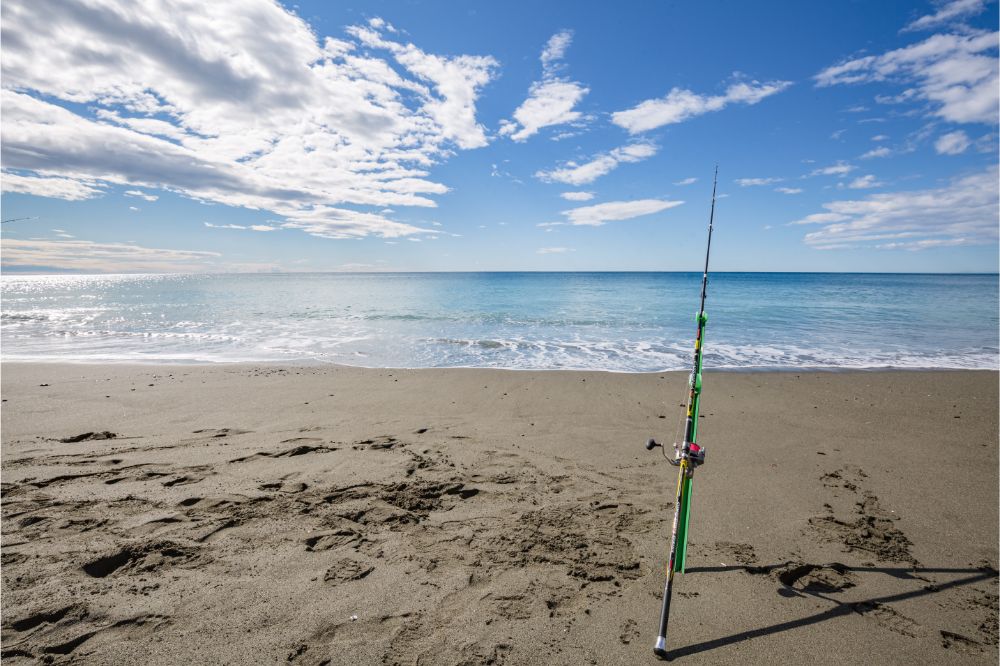 Top Five Sand Spike Rod Holders for 2022
Sand spikes are incredibly convenient bits of equipment that can enhance your beach-going experience. Rod holders, in particular, are especially useful for the avid fly-fisher. These lightweight metal beams allow you to safely run more than one line, giving you the means of handling multiple rigs and baits more efficiently. They also free your arms and hands of the task of holding a heavy rod all day long.
Consider investing in a few sand spikes with our help if that sounds intriguing. We are here to give you the dish on the best sand spikes and rod holders on the market to help you decide. So keep reading below to find out more about the top five sand spike rod holders for 2022 to see which is best for you.
Comparison Chart
Fish-N-Mate 266 Sand Spike Anodized Alum
100% Aluminum, Stainless Steel Hardware Sand Spike, 46 inches Long
Sand Flea Surf Fishing Rod Holder Beach Sand Spike. 2, 3 or 4 Foot Lengths. Made from Impact and UV Resistant PVC. 100% USA Made. (White, 4)
Unexcelled Fishing 48″ Ground Spike Rod Holder
The Beast Sand Spike Rod Holder / 57 inches/Aluminum/Stainless Steel Hardware
Sand Spike Rod Holder Reviews
Fish-N-Mate 266 Sand Spike
The key to a good sand spike is its weight. Ideally, it should be able to hold the sand well while remaining lightweight enough to be easily maneuverable. To this end, you cannot go wrong with aluminum. Not only are aluminum sand spikes sturdy and resilient, but the best ones can also be managed without too much fuss. With that in mind, let us look at the Fish-N-Mate 266 Aluminum Sand Spike and see how well it holds up.
Review
The Fish-N-Mate 266 Sand Spike (hereafter referred to as the 266) is a perfectly capable option for those working on a budget. Its features may not astonish experienced anglers, but for those seeking nothing more than an affordable quality product, this may be the sand spike for them.
We have already mentioned how important weight is for sand spikes. Despite being made from high-quality anodized aluminum, the 266 holds the sand incredibly well, meaning it will not shift unexpectedly.
The 266 measures 49 inches in length (marketed as 50 inches), which is a perfectly average height for sand spikes. It features unbreakable nylon rod caps and an easy in/out push-bar.
Naturally, longer sand spikes may sway if they are not planted correctly. The 266 may require extra effort when embedding it in the ground to ensure that it is properly secured.
Custom Carts LLC Stainless Steel Hardware Sand Spike
Sturdiness is another crucial element of good sand spike design. Fly-fishing is rough work, and keen anglers have no time to be precious about every piece of equipment in their arsenal. Beyond that, sand spikes need to be able to resist the elements better than your average piece of metal. If you are in need of a durable sand spike, the Stainless Steel Hardware Sand Spike from Custom Carts LLC may be for you.
Review
Stainless steel aluminum sand spikes are a dime a dozen in today's market. Besides the products mentioned on this list, it is very rare for the average consumer to stumble across a decent aluminum sand spike that will resist the elements and hold rigid in the shifting sands.
Luckily, this 100% aluminum stainless steel sand spike from Custom Carts LLC does just that thanks to its ⅛ inch thickness, which is just the right measurement to allow rigidity without becoming bulky and cumbersome.
This sand spike measures 42.75 inches in length, meaning it does not lean quite as easily as others. Instead, it remains upright for long periods. In addition to its sturdy construction, it also comes with a full one-year warranty.
Overall, it is a great sand spike worthy of your investment, provided you are willing to pay a little more than you may have intended.
Sand Flea Surf Fishing Rod Holder Beach Sand Spike
It is increasingly difficult for small businesses to acquire a foothold in today's market. Therefore, it is important to acknowledge these smaller companies and give credit where it is due. This next product comes from a family company of fishing veterans who endeavor to provide you with a quality sand spike and rod holder product.
Review
Unlike the previous two sand spikes we have covered, this product is not made from aluminum, which may cause alarm for some anglers. However, this sand spike features a high-quality PVC made in the USA in place of stainless steel.
The PVC is surprisingly tough. From the outset, it is clear that this is not your department store PVC. It holds up well against some of nature's more relentless forces and should be an acceptable substitution for even the most conservative anglers.
Another key difference from the other products we have discussed is the number of options available to you. This sand spike comes in three different sizes, from 36 inches to 49 inches. It also comes in either black or white and features a distinctive logo that gives it a little more personality than your average sand spike.
Granted, this sand spike is a little more expensive than what you may be used to, but the quality is almost unmatched. Additionally, for every purchase, $1 is donated to Tides, a non-profit organization that helps kids fish. This is a great deal and you are sure to get your money's worth.
Unexcelled Fishing 48" Ground Spike Rod Holder
While innovation is always necessary for a product to evolve, you can never go wrong with a tried-and-tested design. Plenty of sand spikes endeavor to excel in all the wrong areas. The market is oversaturated with below-average products. Fortunately, Unexcelled Fishing still adheres to age-old design schemes.
Review
With every entry on this list (save for one), it becomes increasingly apparent that aluminum designs are tough to beat. They provide sturdiness and rigidity where other materials may falter.
This sand spike from Unexcelled Fishing makes for a sturdy and resilient addition to your arsenal. This one also makes securing your rod much easier thanks to a UV-resistant rod tube that is angled towards the water, ensuring that your spinning reel remains in place at all times.
The rod measures nearly 4 inches in diameter and comes in at 48 inches in length. This makes it much more stable but may also hinder some people. Still, this classic design is tough to beat, making it necessary for any keen surf-fisher.
The Beast Sand Spike Rod Holder
If you liked the previous product but wished it was even longer and bulkier, you are in luck. This next sand spike from Custom Carts LLC is not called the Beast for nothing.
Review
Immediately upon opening up the package for this sand spike, its immense size will become apparent. The Beast measures 57 inches in length and 3 inches in diameter.
Naturally, this may cause the spike to lean somewhat in particularly relentless conditions. Fortunately, the rod holder safely secures your reel, keeping it firmly in place at all times. And if the sheer length deters you, it can be adjusted down to 47.5 inches.
The Beast is certainly the most niche product on this list, but those it appeals to will undoubtedly be pleased by what is inside the box.
Final Thoughts
There are many great sand spike products to choose from, but this list represents the very best. Regardless of which one appeals most to you, we guarantee that you will be pleased with your purchase.