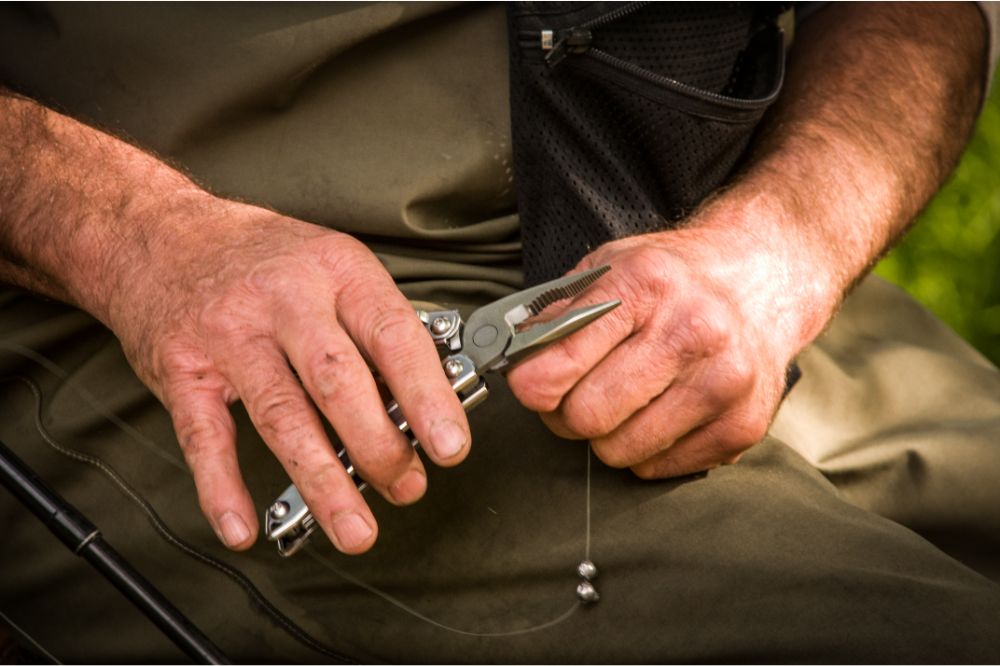 Top Five Fishing Pliers – Complete Reviews With Comparison
There are a few pieces of equipment that every angler should own to complete their toolkit. Perhaps one of the most overlooked tools is the humble fishing pliers – they're a versatile pair of pliers that can help you with various angling tasks.
But if you browse the market for a new pair, you'll quickly find that there are hundreds to choose from, which makes it challenging to find the right one. If you're looking for good fishing pliers, you've come to the right place.
Below, we are going to take a look at some of the best fishing pliers on the market to see what they have on offer in terms of features, functionality, and durability. So without further ado, let's dive right in and see what these fishing pliers have in store for you.
Best Fishing Pliers Reviews
ZACX Upgraded Multi-Function Fishing Pliers
Starting us off is this excellent pair of pliers from ZACX, which features various upgrades that improve its overall function. It's highly affordable and gets the job done well.
Review
ZACX has improved the length of the EVA foam handle on their fishing pliers to a generous 4.3 inches, providing a new ergonomic touch to the pliers that enhance hand strength while reducing fatigue. These pliers also feature an elegant hollowed-out design and machine-cut aluminum handles for reduced weight.
The high-quality, spring-loaded handle keeps the pliers open freely and makes them easier to use with one hand. You'll get a lanyard with your ZACX pliers, preventing accidental loss and ensuring that your tool is always within easy reach.
The only downside to these pliers is that they're not the best at cutting thick monofilament wires, so if you prefer using thicker lines, perhaps consider another option.
Pros
Longer handle for those with bigger hands
Ergonomic design fits well in the hand
Reduced weight makes for simple handling
Easier to use with one hand
Cons
Not great at cutting thicker wires
Piscifun Aluminum Braid Fishing Pliers
Next are these fantastic fishing pliers from Piscifun, which not only come with a range of excellent features but are available in various colors. You'll be able to choose the one that suits your taste the best, which is a definite bonus in our books.
Review
The first thing to note about these pliers is that they're made from anti-corrosion aluminum. The aircraft-grade anodized aluminum Piscifun uses to make their pliers provides excellent corrosion resistance, making these perfect for long-term use without any signs of oxidation and rust.
The pliers are spring-loaded to ensure they stay open freely when not in use. The jaws are also coated in titanium and are made from stainless steel, with a split ring tip that makes them strong enough not just for splitting rings but also for removing hooks.
One gripe we have with the Piscifun pliers is that they are ineffective at cutting through braided wire, which can become frustrating.
Pros
Made from anti-corrosion aluminum
Spring-loaded for easy use
Stainless steel jaws are durable and made to last
Great at removing hooks and splitting rings
Cons
Not great at cutting through braided wires
KastKing Cutthroat 7-Inch Fishing Pliers
This affordable pair of durable pliers from KastKing comes in various colors and boasts a few features that we often don't see from fishing pliers. They are a must-have for dedicated anglers.
Review
KastKing uses 420 stainless steel, which is corrosion-resistant, to make their Cutthroat pliers, along with a strong Teflon coating for additional protection. This makes them much hardier than your average pair of aluminum pliers, which you'd expect from a tool designed for many years of reliable performance.
The great thing about these pliers is that they're great for both saltwater and freshwater environments. The handle is made from a comfortable, ergonomic, and textured rubber to provide you with both control and comfort. The pliers have a thin grip and jaws that are spring-loaded for simple use with one hand – you'll never have to worry about them slipping from your hands again.
One issue we have with these pliers is that they're on the bulkier side of life, making them a little inconvenient to carry around in your equipment bag.
Pros
Highly durable and will last for many years
Suitable for freshwater and saltwater
Ergonomic rubber handle for non-slip use
Easy to use with one hand
Cons
A little bulky compared to similar options
Booms Fishing X1 Aluminum Fishing Pliers
If you're looking for something simple and affordable, look no further than the X1 fishing pliers from Booms Fishing, which are made from stainless steel to prevent rusting and corrosion.
Review
One of the best things about the Booms Fishing aluminum pliers is that their stainless steel jaws feature a small hook at the top, which is perfect for opening the stubborn split rings. This makes the pliers great for helping you repair your lure, a feature you don't see from fishing pliers these days.
Unlike many other pliers on the market, Booms Fishing ensured that the X1 pliers could cut both monofilament and braided fishing lines. All you need to do is line the pliers up properly and they'll slice right through any line you throw them at. We're also a fan of the steel coil wire attached to the end of the pliers, which you can hook onto your belt for easy storage and access.
One downside to these pliers is that they're not spring-loaded, making them more difficult to use with just one hand.
Pros
A small hook makes it easy to open split rings
Cuts both braided and monofilament lines
Steel coil wire for easy storage
Affordable for most people
Cons
Not spring-loaded, which can be frustrating
Plusinno 8-Inch Fishing Pliers
Finally, we have these sleek and effective fishing pliers from Plusinno, which are highly durable and affordable.
Review
The jaws on these fishing pliers are made with stainless steel and then coated with titanium to make them as durable as possible. The serrated jaws make it easy to remove any fish hook, while the crimping slots allow you to secure a split shot weight or build a steel leader.
Plusinno includes a non-slip handle fitted with ergonomic finger grooves for superior control and comfort when holding these pliers. This allows you to positively engage with your hands for a confident, solid grip, even under wet and slippery conditions.
The only problem is that if you apply too much pressure while trying to cut a line, you may end up bending the jaws since they are made from aluminum.
Pros
Highly durable – will last for many years of use
Serrated jaws for easy fish hook removal
Crimping slots allow split shot weight securing
Non-slip, ergonomic handle
Cons
May bend if too much force is used
Wrapping Up
There you have it, folks – our reviews of some of the best fishing pliers on the market. If you require a new pair of pliers, we strongly recommend considering some of the models mentioned above. They've got some great features that are suitable for amateur and professional anglers alike.
All that's left now is for you to choose your favorite option from those above and enjoy a simple fishing experience, fully prepared! Happy fishing.