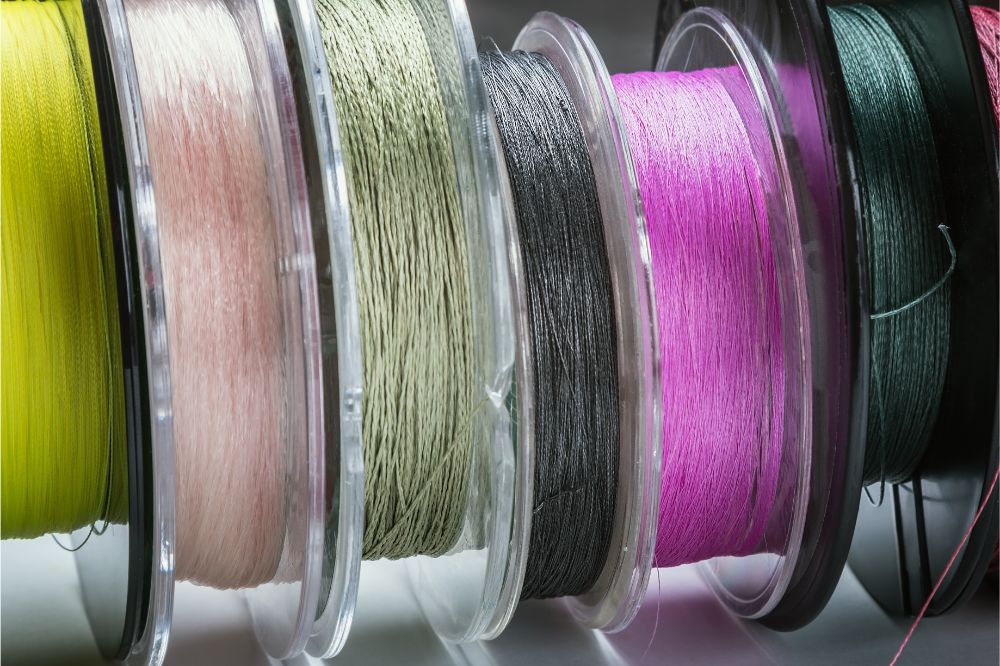 Best Braided Line for Surf Fishing in 2021 Complete Reviews with Comparisons
Surf fishing is a fishing style that involves catching fish right off the beach. In fact, experienced surf fishers can snap up a variety of species, ranging from tuna to salmon and even some shark species.
To make the most of a surf fishing trip, it is extremely important to have the right fishing gear, especially the right kind of fishing line. For surf fishing, it is unanimously agreed upon that braided lines are the best due to their strength and durability. Here is a list of some high-quality braided lines along with comprehensive reviews.
Comparison Chart
KastKing Superpower Braided Fishing Line,Low-Vis Gray,20 LB,327 Yds
POWER PRO Spectra Braided Fishing Line 50lb 3000 Yd, GREEN (21100503000E)
Piscifun Onyx Braided Fishing Line Advanced Superline Braid Lines 150Yd 6lb Black
Reaction Tackle Braided Fishing Line Blue Camo 25LB 500yd
Mounchain Dark Green 8 Strands Braided Fishing Line Abrasion Resistant 300M 10lb
Braided Line for Surf Fishing Reviews
KastKing SuperPower Braided Fishing Line
KastKing is one of the most well-known brands for braided fishing lines. Their braided lines are extremely heavy-duty and do not tear easily. This is also a relatively more inexpensive brand that is not only affordable but also provides top-notch fishing lines.
Review
If you need to get your hands on some durable yet budget-friendly braided fishing lines, then look no further than KastKing. Their SuperPower braided line is especially useful for surf fishing because it is extremely resistant to wear and tear.
This is important when fishing from the shore because there is a chance that the line may snag on a rock underwater and break. Investing in an abrasion-resistant braided line from KastKing will definitely be a good decision.
Another great aspect of KastKing's braided line is that it has very minimal stretch. This is very useful when you go surf fishing because a stiffer line immediately transmits any movement or impact that the line receives. As soon as a fish bites the bait at the end of the line, this movement is transmitted along the line to your hands so that you can quickly reel in your prized catch.
The only complaint we have with this line is that the gray dye used to color it has a tendency to seep out and stain fishing rods and hands.
Power Pro Spectra Fiber Braided Fishing Line
Power Pro is a company that is known to manufacture premium braided fishing lines. Not only are their braided lines incredibly thin and extremely strong, but they are also extremely sensitive to any movement in the water.
Review
We cannot recommend this brand highly enough. It's Spectra Fiber braided lines are the best for surf fishing in extremely choppy seas and harsh weather because their line just does not break. The braid is also extremely sensitive to movement, so it will alert you as soon as a fish takes the bait so that you can pull it out of the water.
Even better, the brand produces this braided line in different weight categories, like 30 pounds or 50 pounds. We definitely suggest getting the 50-pound line because of its higher cast ability power.
The only issue is that Power Pro lines are a little pricier when compared to other brands, but Power Pro guarantees high-quality lines each and every time.
Piscifun Onyx Braided Fishing Line
Third, on our list, today is the Piscifun Onyx Braided Fishing Line. This braided line is made from polyethylene and comes in a range of sizes. The lightest is the 6-pound line, and the heaviest braid is good for 150 pounds.
Review
Piscifun is an excellent option for braided fishing lines. Weightier braids, like the 150-pound option, are made from eight strands, so they have a very high tensile strength, which gives the braid better casting ability.
Due to its high tensile strength, this braid is also extremely resistant to fraying and it is very easy to tie strong knots using this braid.
Piscifun braids come with a nano resin coating, which makes the braids extremely sturdy and the braids have a very little stretch so that you can instantly detect any fish bites.
The lines are also coated with an epoxy layer so that the dye used to color them does not bleed and stain your hands.
The one downside to using this braided line is that getting enough of this line onto the spool of your fishing rod can be a bit of a challenge.
Reaction Tackle High Performance Braided Fishing Line
Reaction Tackle braided lines are quite budget-friendly, so if you are on a strict budget, then start paying attention. Even at such a low price, this braided line is very strong, so if you are short on cash, then definitely consider getting this braided line. It also works well for surf fishing in both saltwater and freshwater.
Review
This is an extremely affordable brand that provides inexpensive braided lines without compromising on quality. Their braided lines are strong and durable and can be cast long distances. This makes them ideal for surf fishing.
In fact, these lines maintain their strength even if the line takes some damage on its surface when fishing in choppy waters, and you can still continue to use them without fearing snaps or breaks. They are highly resistant to damage from fraying.
The company also manufactures braided lines using color-lock technology, so the color does not bleed or stain.
However, one issue with Reaction Tackle's braided line is that it is susceptible to wind knots, so it isn't a good idea to use this braided line on a windy day.
Mounchain Braided Fishing Line
Last but definitely not least on our list today is this braided fishing line from Mounchain. They make affordable fishing lines that can stand up to any pressure test. The braids themselves are made from polyethylene or nylon and consist of four to eight strands depending on the weight of the braided line.
Review
The great thing about Mounchain fishing lines is that they have a low line memory. This is great because it means that Mounchain lines are less likely to develop curls or get all tangled up once you spool them.
Another great aspect about this braided line is that they are very strong and you can use them in rough conditions. This line is good for a surf fishing trip because it will not easily snag or break even if it hits something underwater, like a rock.
However, this line is not that great for casting long distances, as it has low cast ability. You need to factor this information in if you decide to purchase this line. The dye used to color it is also prone to bleeding.
FINAL VERDICT
That's a wrap on this list of the best braided surf fishing lines. We highly recommend the Power Pro braided line because of its top-notch quality and extreme sensitivity to fish bites. However, if you are on a budget, then the KastKing line is a solid option. Good luck on your next surf fishing trip!