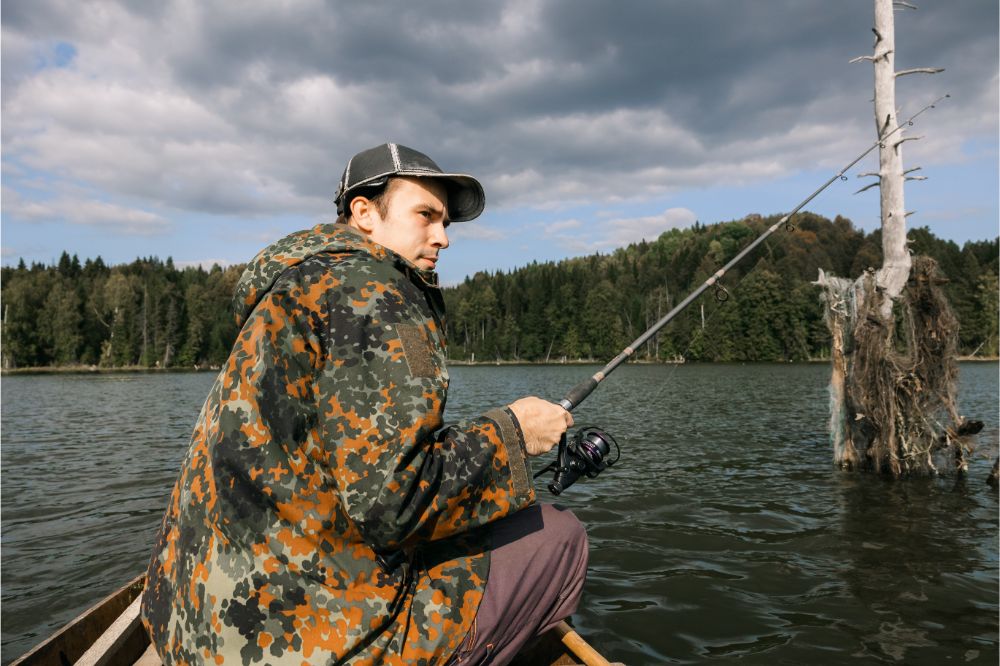 Top Five Wading Jackets
Besides having good quality wading boots and waders, a well-fabricated wading jacket is crucial when you want to fish or go out in the rain. A wading jacket keeps you warm and dry even when it is raining. We have created a list of the best wading jackets based on their waterproofing capability, warmth, and design. Below are five of the finest wading jackets you can find on the market.
Comparison Chart
Frogg Toggs Men's Tekk Toad Breathable Waterproof Rain/Wading Jacket, Stone, Large
SITKA Gear Delta Wading Jacket Optifade Waterfowl Large
Riverruns Fishing Wading Jacket, Breathable Outdoor Fly Fishing Rain Coat Grey X-Large
BASSDASH Walker Breathable Waterproof Fishing Hunting Wading Jackets with Silent Outer Fabric for Men Women in 7 Sizes
8Fans Fishing Wading Jackets Breathable Waterproof Fishing Rain Jackets for Men&Women Medium
Wading Jackets Reviews
Frogg Toggs Wading Jacket
Frogg Toggs is a company that makes cost-effective and innovative fishing waders, cooling products, and outdoor rain gear. One of the most impressive products made by this company is the Frogg Toggs wading jacket. You won't be afraid of walking in the rain anymore with its reliable waterproof and innovative construction.
Review
This waterproof wading jacket is a must as part of your fishing gear, as it ensures your clothes will not soak up water during the day. Thanks to the DriPore 2 Gen technology used to build this jacket, it is fully seamed to keep moisture out, letting you enjoy your fishing expedition. Additionally, you won't feel cold when fishing in the evening or early morning.
This jacket has large pockets that let you securely store your phone, gloves, camera, or even your wallet. There are additional pockets on both sides of the chest to keep more items for the trip.
On the downside, the material used makes the jacket feel stiff and makes static noises when you move your arms.
SITKA Gear Delta Wading Jacket
Sitka Gear utilizes the latest technology to manufacture high-quality gear that improves the experience of any hunter or angler. If you love hunting waterfowl or fishing, carrying the SITKA Gear Delta Wading Jacket with you is your best bet. Although this wading jacket looks big, you will love that it is easily foldable, letting you pack it in your bag with your hunting accessories. Below are more of this product's features.
Review
The technology used to make this jacket makes it convenient for hunting and fishing. The Gore-Tex Pro Shell material allows you to walk unnoticed while hunting waterfowl. In addition, the material is light and durable, meaning this jacket will serve you for years.
This Delta jacket comes in different sizes, from Small to XXX-Large. The variety of sizes means you can get each of your family members fishing jackets that fit them perfectly. This jacket is also 100% waterproof, which will keep you dry even in wet conditions.
You will also love the adjustable hood and you can choose to wear it or fix it in a way that will not obstruct your vision when taking the shot during hunting. The hood also keeps you warm when the weather gets cold.
Although this product has many pretty and unique features, you'll have to pay more to get it. Therefore, if you're on a budget, you might want to consider other wading jackets.
Riverruns Fishing Wading Jacket
Riverruns is known for making high-quality fishing gear, from masks to fishing hats and gloves. One of their unique products is the Riverruns Fishing wading jacket. This jacket's design makes it suitable for all outdoor activities.
Review
You will love the storage that this jacket provides. It has large zippered pockets on both chest sides to ensure you can carry extra stuff when going fishing like nippers, forceps, fishing bait, or the bite indicator. Additionally, two waterproof zippered pockets let you take your camera, phone, or any other electronic device without worrying about coming in contact with water.
In addition, this wading jacket is 100% breathable and waterproof, letting you enjoy your outdoor activity no matter the weather. On top of that, the product's lightweight material allows you to maneuver easily while still keeping you warm.
This product also comes in different sizes. The good thing with this is that you can choose the size that fits you and your loved ones to ensure you can enjoy fishing with them.
However, this product doesn't have side pockets, so you can't protect your hands in the cold rain.
Bassdash Walker Wading Jacket
Bassdash specializes in making affordable, first-rate outdoor accessories and apparel. A great example of one of their high-quality products is the Bashdash Walker wading jacket. This jacket has a unique patented design and a three-layer heavy-duty build that makes it convenient for outdoor activities like hunting. Here are more features of this fantastic product.
Review
You won't have to worry about being able to enjoy outdoor activities during the winter. This wading jacket has three layers made of waterproof material that is still breathable, keeping you warm while keeping the moisture out. Moreover, its color and design make it camouflage well with the outdoor environment, making it hard for animals to spot you.
The jacket is built with a silent outer fabric, making it soundproof even when the rain pours. Two hand warmer pockets let you stick your hands in when the weather becomes cold. On top of that, there are two spacious pockets where you can keep some hunting ammo and other accessories.
On the downside, the shown size appears larger than it is. Unfortunately, this means you can get an undersized jacket due to misleading measurements. Therefore, it's advisable to go for a size that's a unit higher.
8Fans Fishing Wading Jacket
The 8Fans company is renowned for being one of the leading manufacturers of hunting accessories, waders, boots, and fishing jackets. The 8Fans fishing wading jacket is suitable for men and women and allows uniform air circulation to keep you warm during fishing.
Review
This jacket is made of high-quality two-ply fabric that makes it great for the cold winter. It has a sleeve pocket to store fishing accessories like lines and hooks. Moreover, the large back pocket is convenient for carrying the fishing lure box and raincoat.
The design of this product makes it convenient for any gender. This means you and your loved ones can wear matching outfits while fishing together. Additionally, the company cares about good customer experience, which is why there are matching fishing pants that you can purchase separately.
However, this product can only be hand-washed. Its nylon fabric makes it unsuitable for dry cleaning.
FINAL VERDICT
Now that you know the best wading jackets available this year, you can choose the one that best suits your outdoor activity needs. For example, if you're looking for matching outfits for you and your loved one, then the 8Fans Fishing Wading Jacket will check the box. On the other hand, if you want a cost-effective wading jacket that will prevent you from soaking up the rainwater, then the Frogg Toggs wading jacket will stay under your budget.