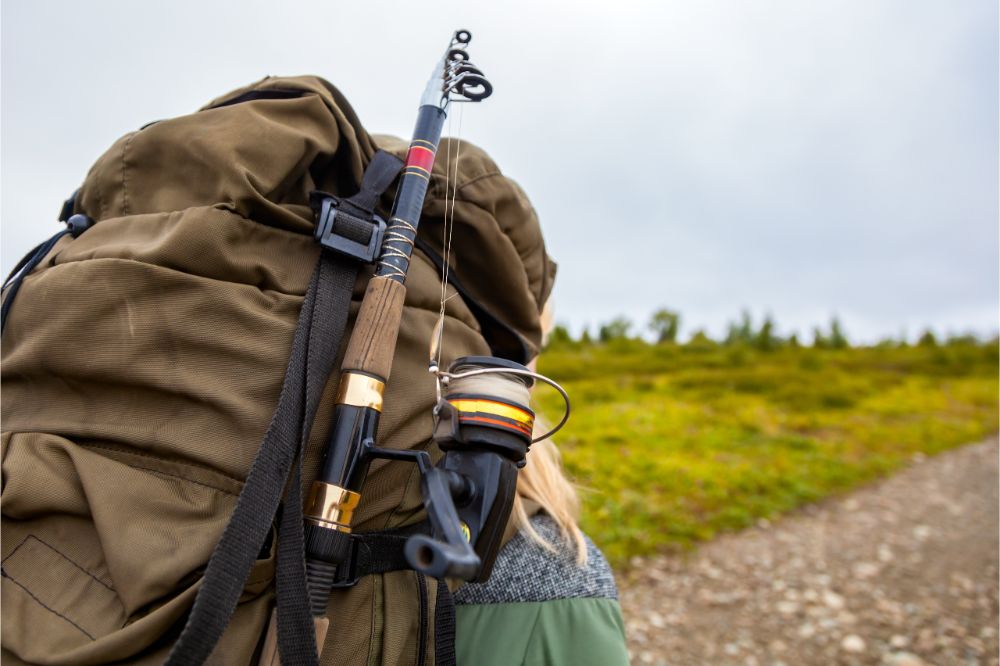 Top Five Travel Surf Fishing Rods
When choosing a travel fishing rod, convenience is probably the most significant consideration. The primary advantage of being equipped with a travel fishing rod lies in its compactness. You can easily disassemble these rods into smaller pieces to carry with you wherever you go. The rods are ideal for use in various setups ranging from freshwater to salt waters and are also perfect for beginners.
Whether you are a beginner or an experienced angler seeking to expand your collection of rods, travel surf fishing rods are a functional and unique tool choice. Below we will analyze some of the best travel surf fishing rods to make buying decisions easier.
Comparison Chart
Goture Surf Spinning Fishing Rod – 4 Piece Graphite Fishing Rod Portable Carbon Fiber Travel Surf Rod – 10ft Surf Rod
Fiblink Surf Spinning Fishing Rod Carbon Travel Surf Rod 4 Piece Saltwater Spinning Fishing Rod 9′
S Max. Big Fish Powerful Predator Surf Travel Fishing Rod + 2 Tips Hi-Carbon 11' 10" & 10' 7" Options Compact Rod 23" Case 26" Cast W 2.8+6 oz
Daiwa Megaforce Travel Spin MFTS 40G, 2.4 Meters, 7.87ft, 30-70 Grams, 4 Parts, Travel-Spinning Rod, 11898-245
OKUMA VSS-S-904M Voyager Signature Surf Travel Rods, Black, 9′ M
Top Five Travel Surf Fishing Rods Reviews
1. Goture Surf Spinning Fishing Rod
The Goture Surf Fishing Rod is the best rod from the Goture brand. The rod design utilizes a carbon fiber material giving it increased sensitivity and strength. In addition, it features specially designed stainless steel guides to prevent the corrosion of accessories and give them a long lifespan.
Vibration transmission occurs via the guides from the line to your arm, thereby increasing the sensitivity. The fishing rod is also comfortable to hold thanks to its non-slip grip.
Review
This Goture surf fishing rod is designed from graphite and has four pieces. It is a portable rod with a length of up to 12 feet. If you are searching for a great surf rod, your search will bring you to this durable rod with a one-year warranty. The handle material is vinyl and is perfect for heavy to medium fast speed.
The rod features a carbon fiber blank design, making it powerful and lightweight. With it, you can go fishing all day long without exhaustion.
The carbon reinforcement increases the rod's durability even when subjected to extreme conditions. As a result, the Goture surf fishing rod is ideal if you are looking for a high-performance and frictionless rod for all your ocean adventures.
The handling comfort guarantees you excellent grip while shielding your wrist from injury. You also have the option of picking a convenient length for you.
2. Fiblink Surf Spinning Carbon Fishing Rod
The carbon fiber design of this Fiblink Surf Fishing Rod gives it outstanding durability. It also ensures the smooth transmission of the casting power with a heightened degree of sensitivity to let even newbies to angling have a better grasp action on the line.
The rod gives you increased sensitivity due to the carbon composite composition with the material allowing the rod to maintain excellently tuned action. Though the rod might be lightweight, this does not compromise its strength.
Review
The Fiblink Surf Fishing Rod features a sensitive fiber compound blank and sufficient backbone to handle the casting of heavy baits and accomplishes this while maintaining a light feel. The engineering of the surf rod also adds to its versatility, all at a pocket-friendly price.
Its handles are made of a super polymer that significantly enhances enjoyment and comfort while guaranteeing durability and antiskid capabilities. The antiskid feature allows you to control the fishing rod in the best way possible in all circumstances. In addition, it is ergonomic to offer better finger strength utilization with the least effort.
The stainless steel material of the rod is a mixed ceramic guide to make it smoother and prevent the guides from the line sticking. It also reduces friction for longer and smoother casts. Furthermore, it also has double-footed stainless steel guide frames to prevent the line from running straight.
3. Smuggler Max Surf Fishing Rod
With this Smuggler Max Surf Fishing Rod, you get a powerful rod ideal for all your carp fishing, beach fishing, pike fishing, surf fishing, and sea fishing adventures. It features a hi-carbon design with seven sections and an additional tip in tough, unbreakable fiberglass.
It has a British design and can handle casts weighing between 100 grams and 170 grams. To fit in with your luggage, you can disassemble and pack the rod in your backpack, car trunk, bike, motorbike, caravan, or rucksack.
Review
You can pack this travel fishing rod into 23 inches cases to accommodate other minor storage space requirements for backpacks, suitcases, and boots.
It has a special two-tip compact design allowing you to use a pair of casts weighing between 100 and 170 grams. You can also use a pair of test curves of weight ranging between 3.5 and 4 pounds.
The rod blank is high carbon to complement the EVA handle, graphite reel seat, and stainless steel silicone eyes. All products from this brand meet high-quality standards to guarantee reliable service.
The high carbon blank is super strong, unbreakable, and features a rigid fiberglass tip. The Cordura travel case, on the other hand, is rugged, stainless steel with silicone-lined eyes.
4. Daiwa Travel Spinning Rod
The Daiwa spinning rod presents a casting weight range of between 7 and 25 grams. In addition, it has a length of 7.38 feet and a transport length of 24.4 inches to guarantee you convenience in your fishing endeavors. For ease of storage, you can disassemble the spinning rod into its constituent four parts and seven guides.
Review
One of the convenient features of this rod is how it can be split into short rods that are easy to store and transport. This saves on space and having to buy costly transport tubes.
The Daiwa travel rod utilizes pin connectors to get an even bending curve. However, the curve is hardly any different from that of two-part rods. The thin and light carbon fiber rods have an EVA/cork hand part and are positioned to offer optimum balance and comfort in your hand.
The varying casting weights and lengths provide suitable choices for lighter trout and perch fishing up to heavier Zander and pike fishing. For coastal sea trout fishing, garfish, or sea bass over long distances, there is a 3-meter length model along with a fivefold pitch. The handle material of this fishing rod is Ethylene Vinyl Acetate for a smoother finish and firmer grip.
5. OKUMA VSS-S-904M Surf Fishing Rod
This fishing rod is a top piece of equipment for any traveling surf angle. It provides anglers with dependable performances thanks to its four-piece convenient construction. With its lightweight build and responsive 24 tonnes carbon blank, the travel surf rod offers the perfect balance of soft top to work lures and a strong backbone. This result is a long cast and brakes for larger fish.
Review
Within the VSS travel rods lineup, there are three spinning models. Every rod can be broken into four constituent sections that can are placed in a protective rod tube. The build of the particular rods utilizes a 24-ton carbon rod blank that is responsive and lightweight.
The backbone design has easy hook sets and accommodates long casts. The rods are available in a medium 9-foot, a medium-heavy 10-foot, and a heavy 10-foot that feature UFR rod tip technology from Okuma.
This surf rod comes with standard, superior quality components to guarantee you long casting days on the beach. Additionally, the rods feature a Fiji DPS reel seat, making for optimal reliability when far from home. The shrink tube, non-slip and rear grips, and EVA fore add to its comfort for all-day casting. You can break down this Okuma VSS travel rod into its constituent four sections for ease of transportation and storage. The package also includes a rod tube for protection.
FINAL VERDICT
Travel fishing rods combine everything you appreciate about regular fishing into a portable unit to take with you wherever your adventures lead. The rods are well-suited for advanced fishing enthusiasts and newbies due to their ease of use and versatility. You can pack the travel surf fishing rods in your backpack or kayak to your camping site, allowing endless possibilities. If you want the best surf fishing rod, go for a lightweight, sturdy rod for a better fishing experience.