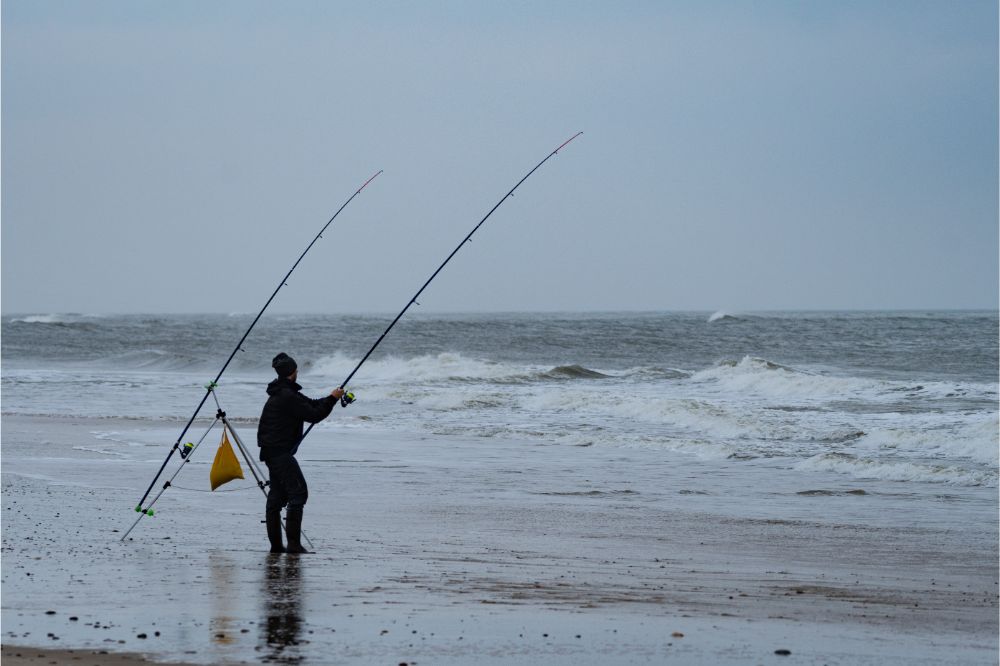 Top Five Surf Fishing Rods for 2022 – Complete Reviews With Comparison
Comparison Chart
Ugly Stik Bigwater Spinning Fishing Rod
Okuma Longitude Surf Graphite Rods (Large, Black/Blue/Silver)
Penn PRESFII1220S80 Prevail II Surf Spinning Rod, 8′, 2pc, Medium, M
Shimano Tiralejo Spinning Saltwater|Surf|Spinning Fishing Rods
Berrypro Surf Spinning Rod Graphite Surf Fishing Rod (9'/10'/10'6"/11'/12'/13'3") (12′-2pc)
Surf Fishing Rod Reviews
What are some of the best Saltwater Surf Fishing rods?
Every fisherman has their preferences for fishing rods, but these saltwater fishing rods are considered some of the best available.
The  Ugly Stick Bigwater.
The Okuma Longitude Surf Graphite rod.
The Penn Prevail II.
The Shimano Tiralejo.
The BerryPro Graphite Surf Fishing rod.
Ugly Stick Bigwater Spinning Fishing Rod
The first surf fishing rod on the list is one designed by Ugly Stick. It is crafted to be used with a spinning reel and outfitted with tons of beautiful features that heighten the usability and performance.
Review
This fishing rod is crafted with high-quality materials and is designed to be used with a spinning reel. This fishing rod, which utilizes proprietary construction and tech, is outfitted with great features, including Ugly Tuff guides and a Fuji reel seat.
Because of these beautiful features, it's easy to see that the value versus the price tag is impressive when you look at everything combined. The use of high-quality materials helps with durability. The overall structure gives the rod a long-distance casting capability and a sensitive tip, so it's easy to feel the fish hit the rod.
When it comes to negative aspects of this rod, there are not many. However, one that stands out is that the grips are pretty far apart and may not be comfortable for some anglers to use.
Okuma Longitude Graphite Rod
The next surf fishing rod is a high-quality graphite rod designed to help improve casting and sensitivity. Because of these two features, it is an excellent option for almost any surf fisher.
Review
The rod is designed with durability in mind; it is crafted with a sensitive and long-lasting graphite composite blank. This construction helps it be a sturdy rod while still giving the angler plenty of sensitivity to heighten their overall performance.
There are a lot of great features when it comes to this rod; however, the most significant advantage that an angler can have comes from the use of the high-quality graphite blend. This blend allows this rod to be durable, lightweight, and super sensitive. That, coupled with an excellent guiding system and the slope frames for more effortless casting, makes this an excellent investment.
That being said, there is quite a learning curve to this rod. The consequence is that if you are a beginner surf angler, this is not the right option for you.
Pen Prevail II
This next model is excellent for those who like to use spinning reels. Designed to be used for surf fishers, the spinning reel model unit brings with it a wealth of benefits.
Review
The model is outfitted with Penn Dura guides and an ergonomic wind grip coupled with a graphite composite blank. This design makes the product a durable and lightweight option that can stand up to many different fish and fishing styles.
Aesthetics are not crucial to the performance of a rod, but they do lend a little something extra. So the fact that this rod is exceptionally pleasing to look at is an added bonus. But when it comes to the overall performance, this rod also shines.
Because of this graphite blank, this rod is solid and powerful, giving it the ability to stand up to nearly any type of fish you may encounter. It's comfortable to use because the ergonomic handle and the pyramid reel seat allow for a more secure fit for the reel.
But just because this has a bunch of great features doesn't mean that there aren't a few drawbacks to investing in this rod. Maybe the biggest is that it is not ideal for those looking to use lighter lures because of its heaviness.
Shimano Tiralejo Surf Rod
The design of this next surf fishing rod gives it a wide variety of options, not just surf fishing. That means that one will get more value from it, which is always an added benefit that many people love.
Review
The Shimano surf rod is crafted with a Hi-power X that reduces blank rod twists and is outfitted with SeaGuide guides and a Fuji reel seat. Overall, all of these features were specifically targeted at the more experienced surf angler.
Because of all those great features, many people look to invest in this rod. All these design features combined give the rod a reasonable casting distance, a heightened strain, and a stiff yet lightweight feel. Meaning that, along with the premium-grade materials that improve the durability and are designed to stand up to the elements, this rod has a longer life than many other options.
However, because of all those fantastic features and materials used in the construction, the rod itself does have a pretty hefty price tag. That means that this excellent rod may not be a good choice for those who are working within a tighter budget.
Berrypro Graphite Surf Rod
The final surf fishing rod on the list is a graphite model designed to house a spinning wheel. It is designed and offered in many different sizes, plus there is a lot of versatility and positive features that help enhance this rod's capabilities.
Review
The Berrypro graphite surf rod is constructed using IM 7 X-Carbon technology blanks. That gives it a lot of power and sensitivity and is finished with stainless steel fishing guides that include a ceramic ring for a reduced level of friction between the line and the guide.
Those features are all fantastic on their own. Combined, they work together to make the performance of this rod stand out. Because of the high-quality blank, the unit is not only solid and sensitive but also durable. With the addition of the guides, this rod's casting response far surpasses many of its competitors. The handle is comfortable, and because of this strength, it is perfect for those surf anglers looking to capture larger fish on their outings.
There's not much to discuss when it comes to flaws in the actual rod itself. However, because the rod is such a fantastic investment, one would want to protect it. So the fact that this rod does not come with a carrying case makes it a little less impressive than it could be.
Final Thoughts
These surf fishing rods are just a handful of the options available to surf anglers. However, thanks to their high-quality construction and unique designs, they topped the list of some of the best rods you should consider investing in. We certainly hope that our in-depth look has helped you decide which of these surf fishing rods is the right fit.