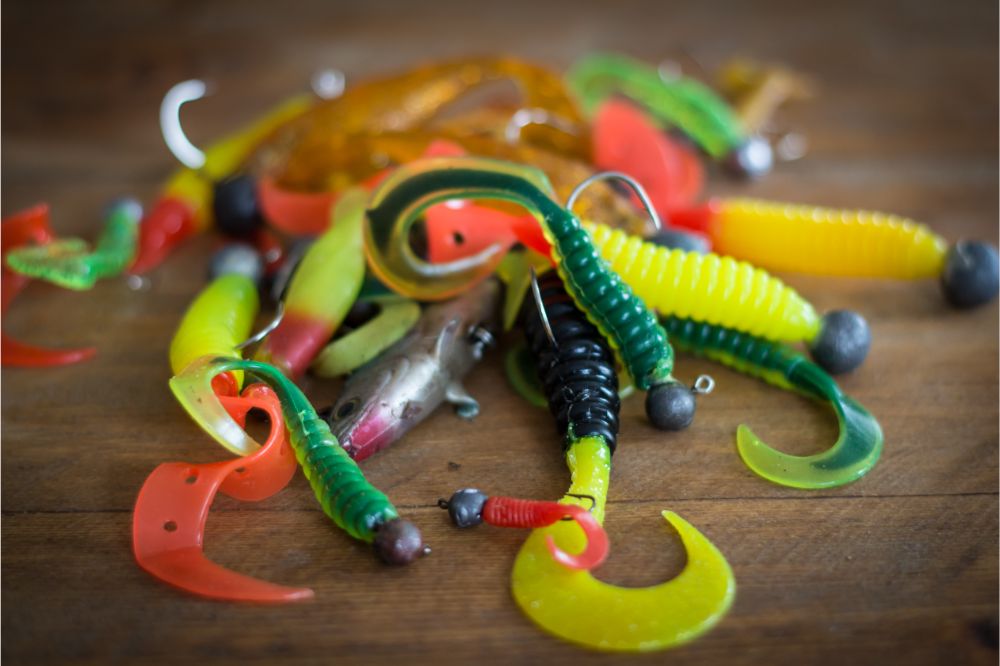 Top Five Plastic Grubs for Saltwater Fishing of 2022 – Complete Reviews with Comparison
If you are a fishing enthusiast and looking to invest in products to improve your game, we can help you. Plastic grubs replicate the movement of a baitfish while coming at a more affordable price.
In this article, we will be going over the top five plastic grubs for saltwater fishing, covering a range of colors and sizes. Not only that, but we will also discuss the application and disadvantages of these plastic grubs. Let's get started!
Top Five Plastic Grubs for Saltwater Fishing Reviews
Fastestever Grub Fishing Lures
First and foremost, we are looking at a versatile product that comes in a few different packaging sizes. You can buy 1.6-inch, 2.2-inch, or 2.8-inch plastic grubs, depending on the type of fish that you are going for. There are a few different size variations regarding the number of items, as you can choose to get a 60-piece, 120-piece, and 240-piece package. Last but certainly not least, you are getting 10 different colors.
Review
We want to emphasize that this product is ideal for saltwater and freshwater fishing. When it comes to the type of fish you can catch with this plastic grub, the list is pretty long and includes halibut, lingcod, smallmouth bass, largemouth bass, northern pike, walleye, catfish, trout, and a few others.
Depending on the package, there are 60 to 240 pieces of plastic grubs that come in various colors, including red, yellow, orange, green, and blue. Most importantly, the material that this artificial bait is made of is durable plastic and should withstand heavy scratches and bites. These are flexible plastic grubs that can be reused and are ideal for saltwater fishing.
The shiny laser design is made to attract fish, while the jiggly tail should replicate the movement of a worm or a baitfish. The coolest part is that you can use these plastic grubs with jig hooks for even more success. The only downside is that it may not have enough action for larger fish. Other than that, you are looking at an affordable and versatile pack of fishing lures.
Pros
Comes in a wide variety of sizes

Available in a pack of 60, 120, and 240 pieces

Perfect for saltwater and freshwater fishing

Jiggly tail and a shiny laser design to replicate baitfish

Flexible and reusable
Cons
Zerone Lead Head Jig Soft Lures
The second item on our list is a set of plastic and metal lures that come in a few colors, including fluorescent green and pink. Set at 6.3 x 4.9 x 0.3 inches in size and made for fishing in saltwater, the realistic design and sturdy structure make this five-piece pack a nice choice.
Review
First and foremost, we want to highlight the lifelike appearance of these plastic grubs. Apart from the vivid colors that the Zerone pieces come in, you are also looking at the little details such as bionic eyes and high-intensity structure that offers fast swimming patterns that attract larger fish.
Among the design details is the sturdy structure that incorporates premium plastic and a metal hook. It is important to know that the Zerone lures are high strength and should resist the power of a fish pulling the lure. In addition to that, these are corrosion-resistant and can be reused.
Apart from the design convenience, it is an eco-friendly product using non-BPA plastic. Our only issue? The fact that it is pricier than most of its competitors (only five pieces in a pack). Still, the lure's overall quality and realistic appearance make it a worthy choice.
Pros
Realistic lure appearance

Comes in a few fluorescent colors

Made of quality plastic, no corrosion/oxidation

Resists fish pulling

Easily attachable to a hook
Cons
Zoom Bait Fat Albert Grub Bait – Pack of 10
Moving on with our list of the top five plastic grubs for saltwater fishing, we present you with one of the most attractive lures on the market. Available in a wide variety of realistic colors, this pack of 10 comes with 5-inch baits set at 1 inch in height, 1 inch in width, and 1 inch in diameter.
Review
Made of high-quality plastic, the Zoom Bai plastic grubs seem to be just perfect if you want to go saltwater fishing. The coolest part is that you can choose from a variety of attractive colors, including Chartreuse, Pumpkin, Salt and Pepper, Watermelon Seed, White Pearl, Cotton Candy, Margarita, and other vivid designs.
Its structure resembles a worm, while the bait has a curved tail that results in more action. The fact that all baits are salt impregnated means that you will have more success pulling the fish out of the water. Our main issue is that the bait isn't as strong as others on our list. Other than that, it is a versatile product you should consider.
Pros
Comes at a reasonable price

Available in a wide variety of vivid colors

Curly tail for more action

Salt impregnated for more hooking-up time

10 pieces in a pack
Cons
Not as strong as other options
Berkley Gulp! Grub White
If you are looking for a plastic grub that can be used with jigs or as a trailer, you are in the right place. This 6-inch bait is made to last and act as a bite for larger saltwater fishes. Sturdy, you should be able to reuse this plastic grub at least a few times.
Review
The main reason why we recommend Berkley Gulp! to experienced fishermen is because of its structure. Unlike most competitors, this product is made from eco-friendly natural ingredients that replicate the smell of a real baitfish. A remarkable feature is that you are getting a more realistic bait while protecting the environment.
In addition to that, the Berkely Gulp! Plastic Grub comes with a wide tail which offers fast and diverse swimming no matter the weather conditions. With that in mind, it is an ideal choice for saltwater fishing. Our main concern? The bait could be softer.
Pros
Made of natural ingredients

Comes with a wide tail/more action

Fast swimming in all weather conditions

Perfect to be used as a trailer/with jigs

For large saltwater fishes
Cons
Mister Twister 4TSF20-1 Twister Tail Grub, 4", White/ 20/Pack
If you are looking for a simple yet effective plastic grub, this one could be for you. Measuring at 4 inches, this lure comes with a curly tail and a sturdy structure, both vital for fishing larger saltwater fish.
Review
Sold as a 20-piece pack, the Mister Twister is made of high-quality plastic that is corrosion and oxidation-resistant. You should have an easy time attaching it to a jig head or a trailer.
Coming in all-white, it is an attractive lure piece that swims under all conditions. Most importantly, the curly tail provides sufficient action and can withstand the stress provided by the fish pulling on a lure. Our main issue? It may be too large for certain fish types. Still, the price and reliability of this plastic grub make it a good choice.
Pros
Available in white color

Coming as a 4-inch bait

Can be attached to a jighead/trailer

Oxidation/corrosion resistant
Cons
Wrap Up
In the end, all five products are of great quality. Our personal favorite is the Fastestever Grub Plastic Lures for the versatility and simplicity of use. In terms of the sturdiest baits for fishing larger saltwater fish, we would recommend the Zerone baits made of high-quality plastic and with a lifelike appearance.