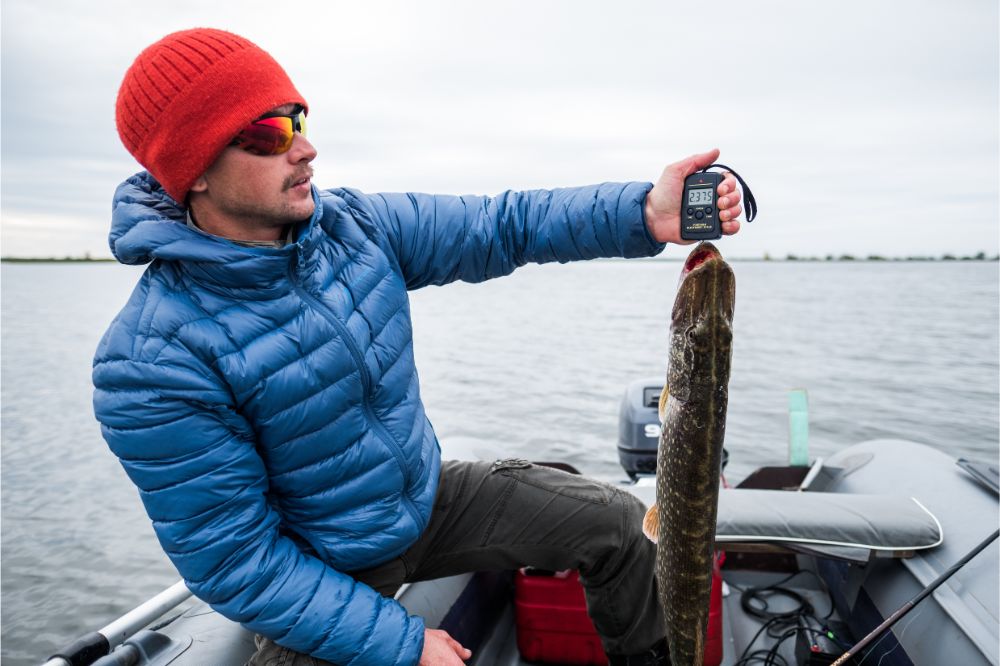 Top Five Fishing Scales
Nothing is better for anyone passionate about fishing than making a big catch. The greater the catch, the more the satisfaction, but how sad would it be if you can't get the precise weight of your bounty?
Any fisherman who wants to improve their fishing experience must have a dependable fishing scale. However, if you don't have time to try out the many available products or aren't sure where to start, here are the top five fishing scales that meet the standard requirements and provide precise measurements. Let's see what they have on offer.
Comparison Chart
Outmate Digital Crane Scale 300kg/660lbs 200kg/440lbs with LED Handheld Mini Hanging Scale for Garage Farm Hunting Fishing Etc(300kg/Plastic Shell/Orange)
[Upgraded]FS01 Fishing Scale, Dr.meter 110lb/50kg Digital Hanging Scale with Storage Function and Numerical Comparison, Backlit LCD Display, Measuring Tape and 2 AAA Batteries Included
SNAIL TRAIL Tournament Fish Scale Tags 8 Caught Fish, Fishing Scale with Lip Gripper, Digital Hanging Weight Scale Weighing 50lb, Portable Hand Held Luggage Scale for Suitcase, a Gift for Fisherman
KastKing Waterproof Floating Digital Fishing Scale with No-Puncture Lip Gripper. Dual Mode – Pounds/Ounces & Kilograms. 0-50 Lbs/22.68 Kg, Lightweight ABS Frame, Non-Slip Handle.
Rapala RHCDS50 High Contrast Digital Scale ,Black, 50 lbs.
Top Five Fishing Scales
Outmate Crane Scale
If you're looking for a portable and multipurpose fishing scale, the Outmate Crane Scale is your product. This scale is easy to use and the display is effortless to read. Furthermore, it is durable to ensure it lasts long.
Review
The Outmate Crane Scale has a huge 2" LED display that displays the readings in visible black numbers. You'll love the scale's accuracy and sensitivity as it ensures consistency with gradual increments of 0.2 lbs or 0.1 kg. It is incredible how the readings instantly adjust to the load additions. The maximum weight it holds is 660 lbs or 300kg. An overload alarm triggers when you exceed the specified weight limit.
The unit has a quality stainless steel frame that makes it sturdy and durable. This property is ideal for other applications such as farming, workshop, hunting, etc. Furthermore, this scale is easy to use, thanks to features such as the Autozero, Battery Supervision, Hold, Auto power off, Tare, and Zero.
The only concern you might experience with the Outmate Crane Scale is inaccurate readings due to a margin of error. However, this is not a big deal since the differences are minimal.
Unlike many other scales, the Dr. Meter fishing scale offers memory storage. This intelligent technology makes it possible to record your readings and make necessary comparisons of your big and small catches.
Review
The Dr. Meter fishing scale is ideal for big and small catches and provides accurate results each time. Its sensitive nature detects changes as small as 0.2 lbs.
Its unique feature is the memory storage that automatically records nine of the most recent measurements. A summation function also allows you to easily add and get your total catch for the day.
In addition, the scale is compact, making it the perfect companion for any fishing trip. It has a comprehensive, soft handle that generates a strong and comfortable grip as you weigh heavier catches. The Dr. Meter fishing scale is also user-friendly and it comes with a bonus measuring tape to ensure you get all readings correctly.
The main downside of the scale is that it doesn't last long if you don't handle it properly. So ensure that you store it in a cool and dry place after use.
Snail Trail Fish Scale
Here is a reliable fish scale that is trusted, proven, and used by pro anglers. In addition, it is a hub of practical measurement features, such as the manual lock that keeps hold of the weight.
Review
A 2.2" backlitLCD screen displays the weight measurements. The screen has a double-row display that is easy to read. The real-time readings are displayed on the top row and then auto-ranked on the bottom.
It is possible to lock on weight in seconds, thanks to the manual lock feature that secures the number. There are three weight units available with each measurement, which are lb, oz, kg, and decimal lbs. Feel free to switch between these units as you measure and record.
It is incredible how easy this scale is and allows one-click operation using the eight buttons available. You will also find a fish-friendly gripper that is easy to open and durable. There are many other features, such as the safety auto-off property that switches the machine off after one minute of inactivity.
However, this angler lacks maximum hold capabilities, a crucial concern for most professional fishers.
Kastking Fishing Scale
Are you tired of losing your angler when it accidentally drops in water? If yes, here is a digital fishing scale with waterproof and floating abilities. The KastKing fishing scale's waterproof nature ensures optimal functioning in all weather conditions.
Review
The KastKing fishing scale has a dual mode weight measurement that allows you to record weights in pounds and ounces. This mode makes it easy to convert the readings to kilograms. In addition, there's a memory function that stores nine weight measurements.
Every fisherman needs a compact scale that is easy to store and transport. In addition, the KastKing fishing scale has a stainless steel hook that enhances its durability.
A no-puncture lip gripper is included, making it possible to weigh the fish without damaging its jaw. This clamp can be used with the scale or separately for easy weight measurements.
Another reason to get the KastKing fishing scale is its versatile nature. You can weigh any kind of fish on the stainless steel hook.
Note that the available grips tend to break after some time. However, it is easy to replace and get the scale functioning.
Rapala Digital Scale
Few other scales match the accurate weight display of the Rapala digital scale. This scale has must-have features to transform your fishing sessions into easy, fun, and convenient experiences.
Review
The Rapala digital scale has an LCD illuminating screen that displays the readings using a lighter text that is visible even on sunny days. In addition, the angler supports three weight units, and you can select oz, kg, or decimal lbs.
A directional pad promotes intuitive navigation through the various menu options. You'll also find other quick access features such as the quick reference for adjusting the minimum & maximum and bin & total weight settings.
Other additional practical features included in the Rapala digital scale include a reverse LCD for a more enhanced view, eight storage locations, memory backup specifications, and tare weight.
The only concern about this scale is that it is not always accurate. The margin of error can be negligible or significant, leading to the wrong calculation of your day's progress or accomplishments.
Bottom Line
There is no better way to track your fishing progress and accomplishments than to get a quality fishing scale. A good scale gives accurate readings and is easy to use. However, as many anglers are out there, it might be exhausting and expensive to research and try them out. Therefore, save time, money, and energy by getting yourself one of these top fishing scales.