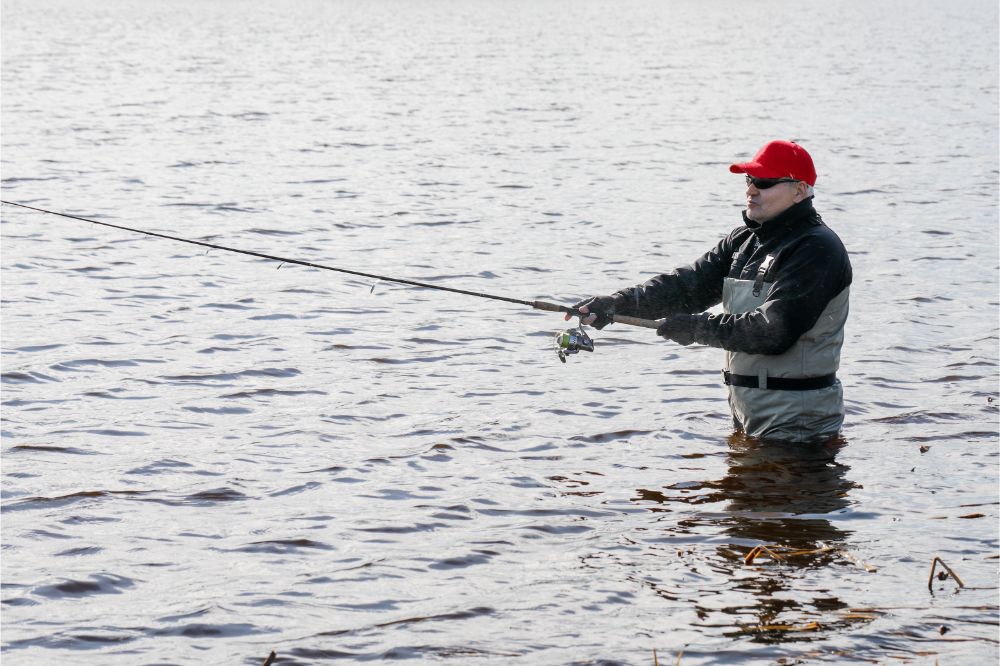 Top 5 Surf Fishing Waders for [2023]
Surf fishing can be an incredibly rewarding and enjoyable experience, but having the right gear is essential for a successful day on the water. One of the most important pieces of equipment for any angler is a high-quality pair of waders.
In this article, we'll be exploring the top five surf fishing waders for 2023, reviewing each product and breaking down the pros and cons to help you find the perfect pair for your needs. Whether you're a seasoned pro or new to the sport, these waders offer a great balance of comfort, durability, and performance – so you can focus on reeling in those big catches with ease.
Comparison Chart
Simms Men's Freestone Stockingfoot Chest-High Fishing Waders – Durable, Breathable, Performance-Driven Waterproof Fly Fishing Waders for Men, Dk Gunmetal, Large 9-11′
Caddis Men's Attractive 2-Tone Tauped Deluxe Breathable Stocking Foot Wader, X-Large(DOES NOT INCLUDE BOOTS)
FROGG TOGGS Canyon II Breathable Stockingfoot Chest Wader, Gray, Size Medium
TIDEWE Bootfoot Chest Wader, 2-Ply Nylon/PVC Waterproof Fishing & Hunting Waders with Boot Hanger for Men and Women Green Size 11
Hodgman CASTCBC12 Caster Neoprene Cleated Bootfoot Chest Waders, Size 12, Brown
Best Surf Fishing Waders Reviews
Simms Mens Freestone Waterproof Stockingfoot Chest Fishing Waders
The Simms Mens Freestone Waterproof Stockingfoot Chest Fishing Waders are heavy-duty waders designed to handle brushy approaches and cold, wet weather while providing an articulated fit for natural mobility. Made with multi-layered Toray QuadraLam technology, these waders offer four layers of protection – two-layer coated fabric, a single membrane layer, and a tricot backer for improved durability, ensuring that you stay warm, dry, and comfortable throughout your fishing trip.One of the most convenient features of these waders is the reach-through fleece-lined hand warmer chest pocket for those chilly days out on the water. Additionally, a zippered top stash pocket keeps your tools, fly boxes, and lures within easy reach. Furthermore, the Simms waders are compatible with Simms Tippet Tender Pocket or Waterproof Wader Pouch, although these are sold separately.The neoprene stocking foot is anatomically designed and features built-in self-fabric gravel guards with an elastic bottom hem for enhanced durability. The adjustable nylon waist belt, Duraflex buckles, and adjustable shoulder straps make these waders suitable for a wide range of sizes and body types.Simms offers a fantastic warranty on their waders. If your waders leak within the first 60 days of ownership, you may return them for a replacement. If your waders leak within the first year, Simms will repair them at no charge. And if your waders are in need of repair after the first year, Simms offers a flat fee of $60 for evaluation, repair, testing, and return shipping.Based in Bozeman, Montana, Simms Fishing Products is dedicated to creating high-quality, functional, and comfortable fishing gear for anglers everywhere. With a legacy of over 40 years, Simms is a trusted name in the fishing industry.In conclusion, the Simms Men's Freestone Waterproof Stockingfoot Chest Fishing Waders provide exceptional durability, protection, and functionality. With a multitude of convenient features and backed by Simms' outstanding warranty, these waders are an excellent choice for any angler.
PROS
Lightweight and breathable, making them great for travel or long fishing trips

Made by Simms, a reputable company known for producing high-quality waders

Offers a wide range of sizes for a perfect fit, including short inseam options

Known for lasting for several years with proper care, ensuring a solid investment

Comfortable and well-fitting, allowing for ease of movement while fishing

Suitable for various weather conditions and effectively keeps anglers dry

Backed by positive customer reviews praising their quality, comfort, and functionality
CONS
Durability may not be as strong as older Simms models but can be maintained with proper care and seam sealing for extended use

Interior wader pouch may be missing on some shipments but can be easily replaced at an additional cost

Not all users may find the ideal size for their body shape
CHECK LATEST PRICE ON AMAZON.COM
Caddis Men's Attractive 2-Tone Tauped Deluxe Breathable Stocking Foot Wader
The Caddis Men's Attractive 2-Tone Tauped Deluxe Breathable Stocking Foot Wader is perfect for those who want to keep warm and comfortable during their fishing adventures. Made of 85% poly, 10% neoprene, and 5% nylon, this wader provides a comfortable fit and uses CaddisDry technology to keep moisture out while allowing perspiration to escape. It's important to note that these waders do not include boots, so you'll need to purchase them separately.Some of the unique features of this wader include double knees for added durability, adjustable deluxe suspenders for an even better fit, a new quad pocket to store your essential items, and attached breathable gravel guards to protect your legs from scratches and cuts. The combination of these features makes this wader ideal for use in all weather conditions, whether you're fishing, clamming, or working in your pond.Caddis Wading Systems has been in the business for over 16 years, providing customers with high-quality waders that offer exceptional fit, comfort, dryness, and value. Their products have been tested in some of the most remote and inhospitable places on Earth, and they continue to improve their designs and materials to provide even better performance and comfort.The Caddis Men's Attractive 2-Tone Tauped Deluxe Breathable Stocking Foot Wader is a versatile and practical choice for any angler looking for comfort, durability, and performance in their waders. While boots are not included, the wader's features and quality materials make it an excellent option when considering your next fishing gear purchase.
PROS
Great fit and high-quality design

Excellent value for the price

Lightweight and breathable material

Durable and long-lasting

Multiple sizes and styles available

Roomy and comfortable for extended wear

Perfect for various outdoor activities like fishing, hiking, or canoeing
CONS
Large stockings may require bigger wader boots

No included belt, but easy to add your own

Front pocket is not waterproof but still handy for storage

Sizing may be slightly awkward for some body types5. Possible occasional leaks but returnable for a replacement

Drawstring at the top may come loose

A more budget-friendly alternative to Simms waders but still a quality pair
CHECK LATEST PRICE ON AMAZON.COM
Frogg Toggs Canyon II Breathable Stockingfoot Chest Wader
The Frogg Toggs Canyon II Breathable Stockingfoot Chest Wader is an excellent option for those who want durability and comfort while spending long days on the water. Made from 100% other fibers with a 4-ply nylon upper, this wader is constructed with longevity and maneuverability in mind.Machine washable and designed for fishermen by fishermen, the Canyon II wader features Dri2Pore technology. This ensures the outer layer is breathable, lightweight, and abrasion-resistant, while the middle layer provides maximum breathability and waterproofing, and the inner layer offers a soft, cool wearing experience.Available in five sizes (Small to XXL), the waders provide a secure and comfortable fit, thanks to adjustable Y-back suspenders with quick-release locking buckles and an adjustable wading belt with a quick-release locking buckle. The attached gravel guards with integral lace hooks offer added protection for the wearers' feet.The Canyon II wader also comes with practical storage options, such as a splash-proof zippered chest pocket, zippered flip-out security chest pocket, and accessory D-ring on the front chest. These features allow wearers to keep essential items close and secure while out on the water.The Frogg Toggs Canyon II Breathable Stockingfoot Chest Wader is a reliable and comfortable choice for fishermen who demand performance and practicality from their gear.
PROS
Affordable and cost-effective for beginners

Extra length allows for improved maneuverability in the water

Decent fit on pants for average-sized individuals

Brand has been recommended by friends.
CONS
Booties might be small for those with larger feet, which could give you a snug fit

Some users have reported leaks but this might be a good incentive to invest in additional sealing materials for extra assurance

Sizing runs small for some, so you might want to consider sizing up for better mobility and freedom

Quality might not be as premium as other brands but it's a great starter option for those getting into fishing

Limited size options for larger individuals
CHECK LATEST PRICE ON AMAZON.COM
TIDEWE Bootfoot Chest Wader
The TIDEWE Bootfoot Chest Wader is a great option for both men and women who are looking for a lightweight and durable solution for their fishing and hunting adventures. Made from 2-ply Nylon/PVC material, these waders are 35% lighter than traditional rubber waders, making them easy to pack and carry around.One of the best features of these waders is their 100% waterproof reliability. The nylon-reinforced PVC upper with waterproof boot attachment and taped seams ensure that water and dirt will be sealed out during your long days on the water. TIDEWE has added an extra touch to their waders by including Water Intrusion Resistance processing to further enhance their waterproof capabilities.Designed with user-friendliness in mind, the waders come with adjustable H-back web suspenders with durable quick-release buckles, flip-out chest pocket, and a top drawcord for added convenience. In addition, the package includes a boot hanger to help you dry your waders easily after use.As a bonus, TIDEWE includes a free 100% waterproof phone case with each purchase, ensuring that your belongings stay protected during your fishing or hunting trips. The waders are available in a range of sizes from 5 to 14, but it is advisable to choose one size larger than your normal shoe size if your feet are wide or you plan on wearing thick socks.These versatile waders are not only designed for fishing adventures but are also suitable for hunting, farming work, or any messy situation that requires you to stay dry and warm. No matter what your outdoor activity entails, the TIDEWE Bootfoot Chest Wader is a reliable and comfortable choice.
PROS
Affordable and great value for the price

Waterproof and effective at keeping water out

Lightweight and comfortable, suitable for long walks

Durable attached boots that are easy to put on

Adjustable with a roomy pocket

Comes with nice extras, like a boot hanger

Suitable for fishing, hunting, and other outdoor activities
CONS
Maybe a little snug in the crotch area for taller individuals

Legs may be too long for shorter individuals but can be bunched up without interference

Some users experienced a small, slow leak near the boot seam after extended use

Might be too tight for use with a regular life jacket, so consider an inflatable option
CHECK LATEST PRICE ON AMAZON.COM
Hodgman CASTCBC12 Caster Neoprene Cleated Bootfoot Chest Waders
The Hodgman Caster Neoprene Cleated Bootfoot Chest Waders are an excellent option when the weather gets cooler. These waders have a 3.5mm neoprene shell that provides warmth, flexibility, and increased mobility in colder conditions. This durability extends to the reinforced double-layer knees, which ensures they'll last through many fishing or hunting trips while keeping you comfortable.These waders don't skimp on convenience features either. The top entry pocket offers plenty of storage, while the fleece-lined pockets ensure your hands stay warm during chilly weather. Another fantastic advantage is the 200g Thinsulate Rubber boot that has a cleated sole for excellent traction on various terrains.The Y-back elastic suspender straps with opposing buckles keep the waders secure, while D-rings on the front and back of the wader provide accessory attachment options. An internal pocket is also included for additional storage.Get ample support and warmth with the Hodgman Caster Neoprene Cleated Bootfoot Chest Waders. Their durability, comfort, and practical features make them a top choice for both anglers and hunters in cooler weather. With all these advantages, these waders are sure to enhance your outdoor experience, making them a wise investment for any outdoor enthusiast.
PROS
Warm and comfortable: Many reviewers mention the waders keep them warm even in October and November

Good fit: Users appreciate the snug fit provided by the neoprene material

Sizing chart and advice: Reviewers find the sizing chart, tips and feedback helpful for choosing the right size

Durability: Some customers have used the product for up to two years without issues

Price: Users find it to be a good value for the quality they receive
CONS
Materials can puncture: While one reviewer mentioned having to patch some holes, they still gave the product a five-star rating

Initial smell: Some users mention a paint smell upon receiving the waders but this can be resolved by letting them air out

Baggy fit for shorter users: A few reviewers found the waders to be a bit baggy but still manageable

Not ideal for layering: Some users found the snug fit made it difficult to wear layers underneath but this could also be seen as a positive for warmth

Leaking issues: A couple of reviewers mentioned small leaks over time but still found the product to be good overall
CHECK LATEST PRICE ON AMAZON.COM
FINAL VERDICT
Selecting the right surf fishing waders is essential for a comfortable and successful fishing experience. The top five waders listed in this article cater to various requirements, preferences, and budgets.
From the durable and well-designed Simms Men's Freestone Waders to the versatile and stylish Caddis Men's 2-Tone Tauped Waders, and the affordable yet high-performance options like the Frogg Toggs Canyon II and TIDEWE Bootfoot Chest Wader, there's a perfect fit for every angler. Lastly, the Hodgman Caster Neoprene Cleated Bootfoot Chest Wader provides added traction and insulation for colder conditions.
Consider these top-notch options and you're sure to make an informed decision for your next surf fishing adventure.