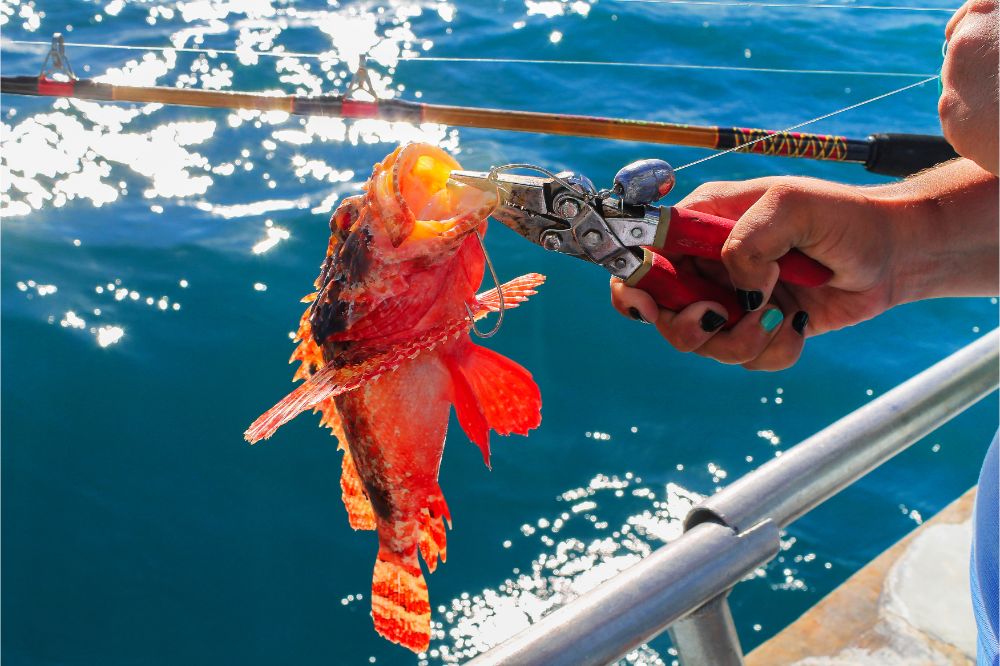 Top 5 Surf Fishing Pliers For [2023]
Whether you're a seasoned angler or a novice looking to enter the world of surf fishing, having the right tools is critical. Among these essentials is a good pair of surf fishing pliers. These versatile tools can make your fishing much easier and more enjoyable.
In this article, we will evaluate and review five top-rated surf fishing pliers, detailed with their unique features and pros & cons. Whether you're buying for yourself or as a gift, this list will help you make an informed choice.
Comparison Chart
TRUSCEND Fishing Pliers Saltwater with Mo-V Blade Cutter, Corrosion Resistant Teflon Coated SUL Muti-Function Fishing Gear as Split Ring Plier Line Cutter Hook Remover, Fishing Gifts for Men Unique
Booms Fishing X1 Aluminum Fishing Pliers Hook Remover Braid Line Cutting and Split Ring with Coiled Lanyard and Sheath
Sidomma Fishing Pliers Fishing Gripper Multifunction Fishing Pliers Saltwater with Sheath Fishing Tool Flyfishing Gear Ice Fishing Gear Fishing Gifts for Men kayak fishing gear
ZACX Fishing Pliers, Fish Lip Gripper Upgraded Muti-Function Fishing Pliers Hook Remover Split Ring,Fly Fishing Tools Set,Ice Fishing,Fishing Gear,Fishing Gifts for Men (Package B)
KastKing Fishing Pliers with Fish Lip Gripper, 6″ Fishing Straight Nose Pliers, 9″ Fishing Lip Gripper, Orange
Top 5 Surf Fishing Pliers Reviews
1. TRUSCEND Fishing Pliers Saltwater with Mo-V Blade Cutter
The TRUSCEND Fishing Pliers Saltwater is a 2022 exclusive upgrade, crafted from never-rust aviation aluminum. This tool, with its precision casting and delicate Teflon coating, impressively offers robust protection against corrosion wear and harsh environments. Designed with molybdenum vanadium blades, these pliers provide a service life far longer than 80% of fish pliers in the market. Anglers can blissfully use it in the harshest salt and freshwater without worrying about rust or grime-building.
One unique feature is its 'never loosens' plier head. Its precision riveting technology with triple-reinforced rivets ensures the pliers remain deformation-free and maintain a 100% fit after many uses. What's more, its sharp and precise cutter with a super tight bite and raised surface behind the blade enables you to cut your tag close to the knot with no obstruction.
Lastly, the ergonomic handle, with an optimized space between the handles, is designed for easy handling in tight spaces and reducing hand fatigue. Complimented by its highly functional design, this tool comes with a coil lanyard and carabiner. It's indeed a reliable fishing partner poised to serve for a decade, making it an excellent gift for fishing enthusiasts.
PROS
The plier end works effectively.

Appreciable functionality of split ring plier, line cutter, and hook remover.

Constructed solidly with a corrosion-resistant Teflon coating.

The pliers are recognised as decent in quality.
CONS
Ensure the included cutter is properly adjusted for optimal use.

Although the sheath is not included, this might not inconvenience some users.

Check that the sheath, if present, clips effectively to your belt.

The pliers can sometimes struggle with smaller rings or thicker hooks.
CHECK LATEST PRICE ON AMAZON.COM
2. Booms Fishing X1 Aluminum Fishing Pliers Saltwater
The Booms Fishing X1 Aluminum Fishing Pliers Saltwater is an upgraded and improved tool for experienced as well as novice anglers. Constructed with an aluminum handle and stainless steel jaws, the X1 pliers are amazingly lightweight yet resilient.
The spring inset in the handle provides auto-opening functionality which speeds up your tasks during fishing. The feature that stands out most in this tool is its super braided line cutters, lined up efficiently to give you a smooth and clean cut. It can easily cut through both braided and mono line, a rare feature to find in traditional pliers.
Moreover, the stainless steel jaws are accompanied by a small hook designed specifically to open stubborn split rings and help in lure repair. The X1 pliers come with a split lead and single-barrel crimping position, adding to its array of functionalities.
The inclusion of a steel wire coiled lanyard and nylon holster ensures that you always have this invaluable tool close by, ready for use. Secure it to your belt or fishing bag and you'll never have to worry about losing it.
PROS
Highly rated product with many positive reviews.

Good quality, durable and reliable, thanks to the aluminum and stainless steel build.

Comes with a sheath for easy carrying and storage.

Versatile multi-tool with a line cutting feature and hook remover.

Lightweight, great for ease of use and convenience when fishing.

Swivel lanyard and holster enhances accessibility.

Available in different colors, preventing mix-ups.
CONS
Some users experienced issues with the holster, suggesting room for improvement in securing the pliers.

A few users reported traces of surface rust on the jaw part, hinting at the need for regular cleaning and care.

The case could be more secure to ensure the pliers don't slip out when the velcro strap is not used.

While the weight is light, some users might prefer a heftier tool for heavier tasks.
CHECK LATEST PRICE ON AMAZON.COM
3. Sidomma Fishing Pliers
The Sidomma Fishing Pliers and Gripper is an all-in-one fishing tool perfect for both saltwater and freshwater fishing. Built from aircraft-grade anodized aluminum, they offer excellent corrosion resistance, which means you won't encounter any rust even after continuous use.
Furthermore, the CNC cut handles are extremely lightweight, making them a great companion for long fishing trips. They don't sacrifice performance for weight though, with durability guaranteed even in harsh saltwater settings. One unique feature of this product is its improved size, ensuring ergonomic use and ease of carry compared to other bulkier, less comfortable models.
Beyond functionality, this set also serves as a thoughtful gift for anglers and loved ones who enjoy fishing, thanks to its versatile and practical uses. Sidomma even provides a 1-year warranty as a promise of the product's high standard of quality.
This set of pliers and gripper are a must-have tool for every fishing trip. You not only get a high-performance accessory, but also peace of mind with the product's exceptional warranty and customer service.
PROS
Great value for the price point, offering several tools in one.

Lightweight, making it easy to carry around.

Effective in cutting braided line.

Suitable for both adults and kids.

Durable and saltwater-resistant.
CONS
The lanyard may not be very sturdy, but the tool works well without it.

Some found the velcro ineffective, however, this does not affect the tool's performance.

The handle may seem a bit short, but this adds to its compact size.

The pliers might feel light, yet their function isn't compromised.

The holster may be slightly flimsy, yet the tools themselves are durable and sturdy.
CHECK LATEST PRICE ON AMAZON.COM
4. ZACX Fishing Pliers
The ZACX Fishing Pliers, Fish Lip Gripper Upgraded Muti-Function Fishing Pliers Hook Remover is another great tool that transformed the fishing game. Packed in the Package B, it comes with not only the fishing plier, but also a fishing lip gripper and a sheath—a complete set for a great fishing trip.
The plier features a unique hollow out design and machine-cut aluminum handles to lessen the weight without compromising functionality. It works as multi-functional braid line cutters, split ring removers, and practical hook removers.
The upgraded fish gripper, with a heightened length of EVA foam handle, is ergonomically designed to enhance hand strength and reduce fatigue. Both the gripper and plier have higher quality spring-loaded handles, making them easy to operate with just one hand.
Plus, they are corrosion-resistant—perfect gear for freshwater and harsh saltwater environments. The addition of lanyards prevent accidental loss, making them always within reach. Indeed, it is an excellent gift for fishing enthusiasts on any occasion.
PROS
Aids in easy hook removal, preventing direct contact with the lure or fish.

Features a durable and smoothly operating cutter.

Lightweight and comfortable to use.

Includes a convenient coil chain attachment for easy retrieval of pliers.
CONS
While the lip gripper is functional, it may be small for some users.

The pliers lack an integrated locking clip, requiring you to manually keep them closed.

Though minor, some users might need personal trial use of the product to confirm its full suitability.

Despite predominantly positive feedback, the occasional user found the product as just okay.
CHECK LATEST PRICE ON AMAZON.COM
5. KastKing Fishing Pliers
KastKing Fishing Pliers is a must-have gadget for every angler. This tool is purpose-built with many key features that make fishing expeditions less daunting and more productive. Constructed with corrosion-resistant 420 Stainless Steel, the pliers are designed to handle the rigors of both freshwater and harsh saltwater sea fishing.
The tungsten carbide cutters, which are superbly hard, make slicing through mono, fluorocarbon, and braided fishing lines a breeze. Conveniently side-mounted, the cutters allow for precision cutting close to the knot. The multi-function jaws, which contain serrated edges for grip and removal of fish hooks, are very rugged. Moreover, they have slots for crimping split shot weight or building a steel leader, which strategically positions them as a multi-use tool for anglers.
A standout feature is the fish lip gripper. Made from the same corrosion-resistant material as the pliers, it offers a non-slip EVA handle for hassle-free landing of catch. It comes with a spring-loaded trigger for easy one-hand operation and an adjustable wrist strap to prevent accidental dropping in water bodies during use. It's evident that the KastKing Fishing Pliers was designed for practicality, durability, and ease of use while fishing.
PROS
Decent value for price.

Cutters work well even on braid.

Unique, functional design.

High-quality pliers included in package.
CONS
Pliers size smaller, approximately 6.25" contrary to advertised 7".

Pliers deemed suitable for light use only.

Holster design needs improvement for better grip on pliers.

Lip grippers reported to be sharp, potential to harm fish.
CHECK LATEST PRICE ON AMAZON.COM
Conclusion
In conclusion, a good pair of surf fishing pliers should be corrosion-resistant, versatile, and durable. The TRUSCEND, Booms Fishing X1, Sidomma, ZACX, and KastKing pliers we've reviewed each offer their unique strengths, helping you deal with various challenges during your fishing trips.
So whether you're a seasoned angler or just starting out, investing in the right set of pliers can immensely improve your surf fishing experience.