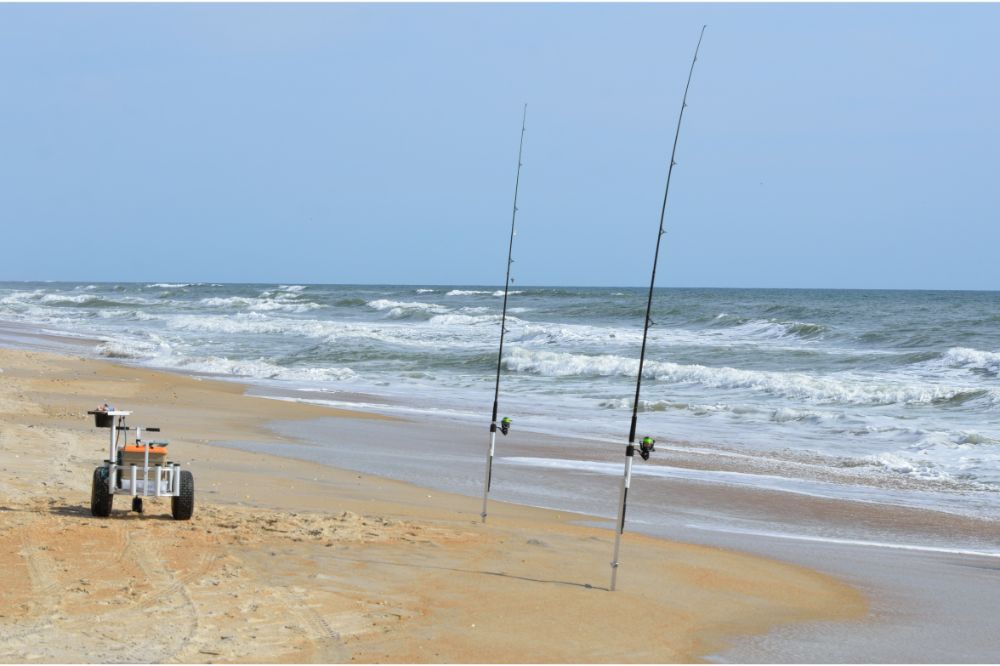 Top 5 Surf Fishing Carts for [2023]- Complete Reviews with Comparison
For those that are into surf fishing, it is well known that the gear needed for this sport can be very heavy. So to enjoy the excursion, most opt to invest in a good surf fishing cart. There are many options available out there. Take a look at the top five surf fishing carts below!
Surf Fishing Cart Reviews
Fish N Mate Cart
The first fishing cart on the list weighs in at 24.7 pounds and is designed with corrosion-resistant aluminum tubing. Along with this, the overall design includes parts and attachments to improve outdoor recreation and storage capability.
There is a lot to love about this heavy-duty, durable, all-aluminum frame surf fishing cart. The unit itself has the ability to add on attachments so it can easily hold eight fishing rods. On top of that, because of the high-quality aluminum materials, the cart has a high carrying capacity. But the best of all is that the aluminum is corrosion-resistant, which is quite nice, seeing as how surf fishermen have to deal with a lot of salt from the surf.
But even with all those great features, some design flaws should be mentioned before any final decision is made. Most of them have to do with the mobility of the cart. The cart itself is designed with just two tires that are not balloon tires, which could limit mobility a little bit.
Pros
Crafted with a heavy-duty, durable all-aluminum frame
Designed to be able to hold eight fishing rods easily
Materials used to give it a high carrying capacity ( 200 pounds)
Unit is designed with corrosion-resistant materials for better durability
Cons
Cart is only designed with two wheels which decreases mobility
Tires are not designed using balloon tires
Sea Striker BRSC Fishing Cart
This surf fishing cart is designed with a large carry capacity. Within its frame, the fisherman can carry with them a 54 qt. cooler as well as a ton of other gear. The cart is crafted with a galvanized steel frame which is powder-coated for enhanced protection from the elements.
When it comes to the construction of this surf fishing cart, its simplicity is key. The simple design allows for easy assembly. The product comes with all the tools needed for said assembly, which gives it a lot of value. Overall, the simplistic design is intended to allow the fisherman or woman to carry quite a bit. On top of that, the unit is crafted with a high-quality fishing rod holder too.
Although there is a lot to like about the cart, there are also a few issues. The wheels are not really that durable, so this may not be a good choice for those who like to fish off rocks. Also, it is not as mobile as one might think, and some may find it hard to navigate around piers as well.
Pros
Assembly is simple and the unit comes with all tools necessary
Crafted with a lightweight plastic material that reduces the weight
The frame of the cart is designed to be able to hold quite a bit of equipment
Designed with a high-quality fishing rod holder
Cons
Wheels are not crafted to be able to handle rough terrains
It may not be ideal for movement around piers
Mighty Max Fishing Cart
This cart is crafted with a flatbed frame that can be adjusted in length. In its most compact version, you will get 31″ of length and fully extended that expands to 38″. Attached to that frame are four all-terrain wheels. These wheels are solid foam rubber and attached to the cart without bearings. It can be used to carry up to 250 pounds.
Unlike many other carts, this one can be adjusted for the surf fishing trip you are taking. This might be the best thing about this unit. It is crafted with an adjustable frame, making it easy to steer. Also, because of the adjustability, you can make it quite compact, which makes it easy to store away when you are done. But though it is compact, it still can handle a heavyweight capacity.
It does have a few drawbacks, though. The first of these is that although the wheels are all-terrain, they don't really play well with sandy situations. Also, if not careful, the unit has a tendency to become top-heavy and may tip over.
Pros
Units are designed with an adjustable length for more versatility
Steering the cart is quite easy
Has a high weight capacity for improved storage
Cart is compact and lightweight for better portability
Cons
Some find it doesn't roll that easy in sandy situations
May become top-heavy and tip
Drift Marine Pier Cart
With this surf fishing cart, you get a model that is designed to be lightweight and durable while giving you a lot of room. The unit can haul up to 125 pounds and comes with several accessories (tarp liner and a cutting board system).
For such a compact cart, the fisherman or woman will be able to take advantage of a lot of great benefits. This is why when it comes to the value versus price, this may be one of the best investments one could make. It comes with a tarp liner and a cutting board for more usability. It is also designed to handle all terrains easily and is even able to be customized to meet the fishing enthusiast's needs.
It does have a lot of great benefits, but there are a few things that could be better. The cart is compact, which is great, but this also means it doesn't have as high a weight capacity as other models. Also, the manufacturer states it is corrosion-resistant, but some have questioned the quality of that claim.
Pros
Price versus value outshines many of its competitors
Comes with an easy to clean tarp liner
Designed to be able to handle all terrains easily
Able to make adjustments easily, including adding a front wheel
Cons
Unit is not designed with a high weight capacity
Not crafted with materials that are corrosion resistant
Fish N Mate Large Cart
The last surf fishing cart on the list is another entry from Fish N Mate. This unit is designed with poly wheels and premium-grade vinyl material. The tires are 15″ in diameter. Along with the overall high-quality frame design, the unit includes stabilizer legs and a detachable handle.
The unit is designed for comfort and organizational superiority. Crafted with specific places for the fisherman or woman's lures as well as their knives, they will not have to worry about losing anything. On top of that, there is space for up to six rods to be held and there is no fear of corrosion from the elements. It also is crafted with durable materials that allow it a hefty weight limit.
All of that is great, but before any final decision is made, a few issues need to be addressed. The first is that some people find this cart to be a bit too large. Also, there have been some reports of the tiring pin deforming under heavy loads, which can lead to tire punctures.
Pros
Designed with places to store your lures and knife
Crafted with multiple high-quality rod holders
Made with corrosion-resistant materials for more durability
Lightweight unit with a high weight capacity
Cons
Some find the size a bit cumbersome
There have been some that have had issues with the hub design
Final Thoughts
Above we took a look at some of the best surf fishing carts on the market today. Hopefully, this has helped in the decision-making process when it comes to which one to invest in!