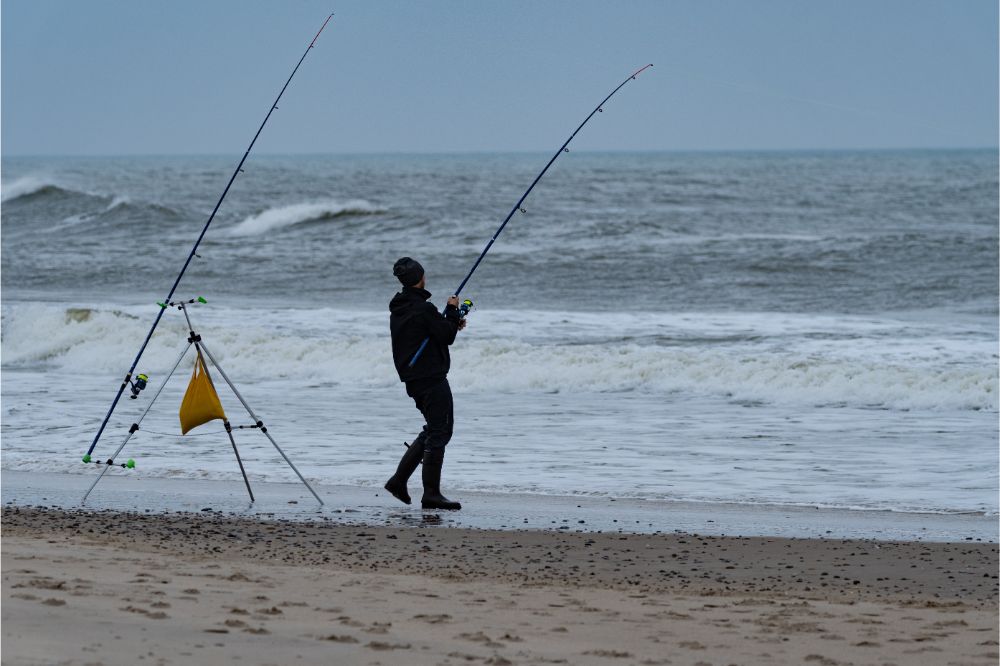 Top 5 Rubber Boots For Surf Fishing – Complete Reviews with Comparison
If you're going to the beach, your feet are likely going to get wet. In fact, the feeling of the beach waves hitting your feet is amongst the nicest feelings ever. However, if you have to go to the beach often, especially for fishing, you might not be very fond of getting your feet wet.
Whether you are fishing from a boat, the side of a river or lake, a pier, or a shoreline, the water will eventually touch your feet. Getting a good pair of rubber boots can help prevent your feet from getting wet. We've compiled a list of the top five rubber boots for surf fishing to help you choose the right pair for yourself.
Comparison Chart
TIDEWE Rubber Boots for Men Multi-Season, Waterproof Rain Boots with Steel Shank, 6mm Neoprene Durable Rubber Outdoor Hunting Boots Realtree Edge Camo Size 11 (Black)
Dark Lightning Rubber Boots for Men and Women,Waterproof Muck Rain Boots with Steel Shank for Fishing Hunting,Neoprene Durable Black Outdoor Boots(14)
BASSDASH Explorer Desolve Veil Camo Men's Waterproof Hunting Boots 16" Rubber Boots with 5mm Neoprene Lining Insulated 400 Grams Fishing Outdoor Tactical Boots
OutdoorMaster Hunting Boots – Waterproof, Insulated Boots for Hunting Fishing and Outdoor, Neoprene Rubber, for Men – Brown,10
Grundens DECK-BOSS Boot | Durable, Waterproof, Grey, M 9
Surf Fishing Rubber Boots Reviews
1. TIDEWE Rubber Boots for Men Multi-Season
TideWe's Rain Rubber Boots are a great choice for any type of fishing. They work great in most climates and are extremely durable. They are 100% synthetic and are made up of entirely natural materials, thus ensuring their originality. Their premium waterproof design makes them amongst the best boots for surf fishing.
Review
TideWe Rubber Boots are known for their remarkable anti-slip and waterproof properties. They have neoprene uppers and are made up of 100% natural rubber, which gives these boots strength. Threads are deeply integrated into the sole of the boots to prevent any accidental slips.
Their remarkable waterproof design keeps the boots from getting wet, despite the harshest of climates. They are extremely comfortable to wear for a long period of time thanks to the neoprene uppers. A steel shank rubber is installed between the insole and outsole of the boot to provide it with extra strength.
They give the convenience of being able to take them off and put them on easily. Lastly, they are suitable for most weather, and you can wear them in the rain, hot temperatures, flooded areas, woods, mud, etc.
2. Dark Lightning Rubber Boots
Dark Lightning rubber boots are the perfect boots if you happen to fish where the climate is mostly warm. They are the best pair of boots for summer. They are incredibly comfortable and do not slip on wet surfaces and are therefore among the best choice for surf anglers. Their waterproof quality is remarkable as they have 5mm neoprene uppers.
Review
The boots are made up of premium quality rubber material. Their rubber sole does not allow the shoes to slip easily on wet or muddy surfaces. The boots are flexible, giving your feet room for comfort and breathing. They will keep your feet dry and are the perfect summertime boots if you want to go fishing.
They have a 3D air mesh lining that allows your feet to breathe in your shoes comfortably while not having to worry about your feet getting too warm. They have a lightweight rubber outsole which ensures their longevity and durability.
3. BASSDASH Explorer Desolve Veil Camo Men's Waterproof
BASSDASH Explorer Desolve boots are amongst the most comfortable wears for fishermen. Moisture can easily escape through the boots yet still keep your feet dry and warm. The premium quality boots are incredibly durable and ensure that users are able to wear these shoes over a long period of time without any concern. They come in a unique camouflage pattern which is incredibly popular.
Review
The boots have a 100% waterproof barrier that prevents any water from getting in your feet and keeps your feet warm and dry all day long. They feature 400 grams of Thinsulate Ultra insulation for warmth, incredible flexibility, a lightweight sole, and lasting neoprene lining for maximum comfort and waterproof protection.
The camouflage pattern prevents any sea animals from getting attracted to your feet. For surf fishers, camouflage patterns are extremely popular as they fish on the shoreline where there is always a chance of dangerous animals detecting your feet.
They come with an adjustable back gusset and strap, making it convenient for anglers to wear them and adjust the boots according to their comfort. They are possibly the best hunting or fishing shoes thanks to their comfort and camouflage pattern.
4. OutdoorMaster Hunting Boots - Waterproof, Insulated Boots
OutdoorMaster Hunting Boots are great for surf fishing. They are not only waterproof, attributing to the presence of neoprene rubber, but they also provide the strength that good waterproof boots must have. They are suitable for many terrains and provide high-level comfort.
Review
These boots are perfect for any weather as they help maintain the temperature making sure that you don't feel unformattable wearing them.
OutdoorMaster is amongst the best choice for surf fishing since it allows a slip-on closure making it comfortable to wear. The warmth provided by the insulation is top-tier alongside the flexibility of the boots. They are unique in terms of their shock absorption properties.
The rugged rubber outsole is suitable for most terrains making it easier to walk on uneven surfaces. They have a simple design and are easy to put on, considering how flexible they are. Your feet will not feel discomfort as their flexibility and breathability ensure that your feet remain cool and the temperature is regulated.
5. Grundens DECK-BOSS Boot | Durable, Waterproof
Grundens DECK-BOSS boots are a unique pair of waterproof boots that are perfect for surf fishing. The DECK-BOSS collection focuses on aiding their fishing clients with comfort, which further assists them in improving their fishing abilities. The high-quality boots ensure maximum strength and allow flexibility to make surf fishing more efficient.
Review
Grundens DECK-BOSS boots come with a rubber sole and a heel that measure approximately 1 inch. Their strength is remarkable as they can withstand any harsh weather conditions and keep your feet protected from dirt, mud, rock, water, etc.
They can be worn over long periods of time and they provide maximum comfort. The boots are designed to improve the anglers' performance since they are tough, durable, flexible, and feature a protective toe cap. They keep your feet dry despite staying in the water for long.
The boots are the perfect fit for beginner anglers and professionals alike. The premium quality boots are developed and manufactured to provide an optimal condition for rain and fishing specifically.
Conclusion
The top surf fishing boots are shortlisted in terms of their superior quality, comfort, user-friendliness, strength, and variety they come in. Professionals and new anglers alike find it difficult to find a good pair of fishing boots that give them the maximum comfort and support for efficient fishing. When fishing, no one wants to be distracted by any mild inconvenience. Surf fishing boots ensure that you fish at your maximum comfort without any concerns.