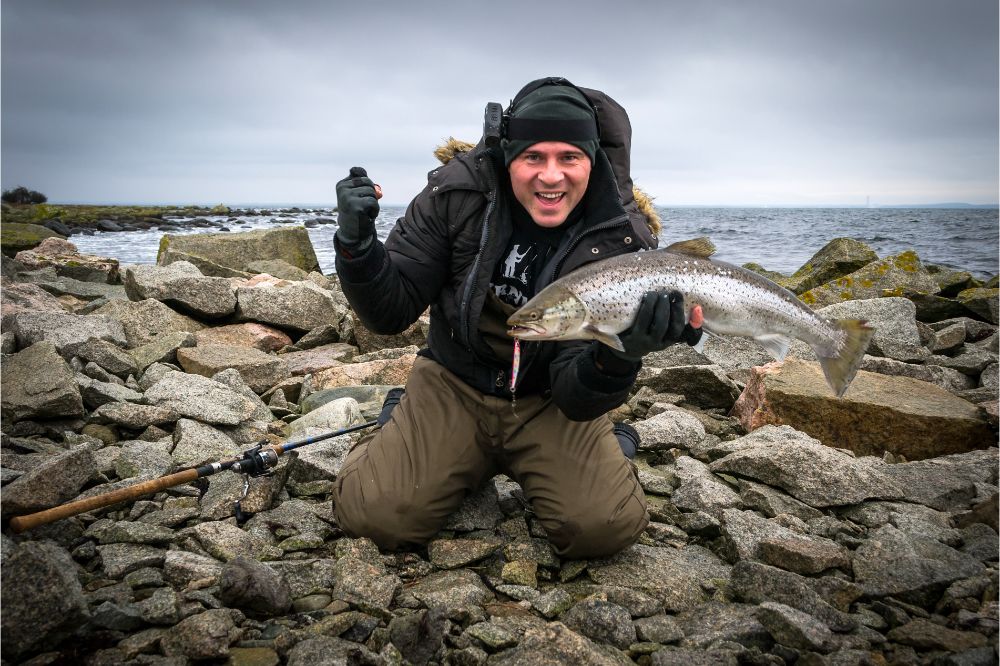 The Five Most Common Species of Fish Caught From California Beaches
California is considered by many to be the jewel of the United States. With more than 800 miles of stunning Pacific Ocean beaches and coastlines, more national parks than any other state in the country, and mild weather throughout the year, there's no limit to what can be done in California.
It should come as no surprise, then, that fishing in California is a dream come true for anglers from around the country, and around the world. Let's take a look at some of the most common fish caught in this state.
California's Top Catches
There are hundreds of species of fish to be caught in California, but some are far more abundant than others. Here they are.
Chinook Salmon
Chinook salmon is by far the most popular and sought-after catch in northern California. The king of its species, the Chinook is the star of both freshwater and saltwater fishing, and they can be caught up and down the coast of California.
Spring and early summer are reserved for fishing Salmon, anywhere from Crescent City to Half Moon Bay. During the colder months, huge salmon can be found in streams and rivers, and during fall runs, it's common for anglers to catch chinooks weighing in at 30 pounds.
Striped Bass
Striped bass would be the staple species of northern California if such a thing existed. They can be caught at any time of the year as long as you track their migration and know where to target them.
Striped bass spend the winter in San Francisco Bay, where they can be caught whether you're on the pier, on a boat, or fishing the surf. During spring, they start to move toward the Sacramento River and California Delta, which happen to be some of the best spots for fishing bass in the state.
The standard size for striped bass is between 5 and 10 pounds, but they are known to get as big as 40 pounds, particularly in the Delta.
White Sturgeon
The next time to make your way to El Dorado State for a trophy catch, be on the lookout for the white sturgeon. This particular species of fish is massive and has been known to grow up to 12 feet long and weigh hundreds of pounds. It is definitely a catch you don't want to miss.
The best time to go hunting for sturgeon on northern California's rivers is the beginning of the year, particularly during January and February. Fishing for them might still yield some success in March and April, though after that their numbers will definitely dwindle since they prefer colder water.
Thanks to their acrobatic displays and impressive size, sturgeon are some of the most sought-after species of fish for many anglers in the northern regions of California.
Tuna
For anglers moving toward the southern parts of California, tuna make for a fantastic trophy catch in the region's deep waters. This is the cradle of yellowfin tuna fishing, and there's really no better place to hook a beast. Aside from some excellent yellowfin catching, you might also find yourself sparring against albacore and bluefin.
Tuna thrive in warm waters, so your ideal time for chasing them down is between May and October. They can weigh anywhere from 20 to 200 pounds, though if you're looking for a real monster, you're going to have to trek into the deep Pacific waters - usually about 20 miles from land.
Yellowtail Amberjack
While tuna might be the exotic trophy that anglers long for, a favorite SoCal species is the yellowtail amberjack. You can fish for these beauties all year, or spend the summertime chasing them on their way from Mexico - the choice is yours.
These beautiful fish can be found around wrecks and reefs in deep waters, where they enjoy ambushing their prey. They come in a variety of sizes, from the smallest 'firecrackers' to 50-pound 'mossbacks', which makes them excellent catches for both beginners and professionals alike.
Southern California boasts a world-class yellowtail fishery, and both local and tourist anglers can't seem to get enough of the place.
Best Californian Fishing Spots
California hosts a plethora of top angling opportunities and picking out the best places is no simple task. However, if you are looking for a place to begin your fishing adventure, here are some of the top hotspots that you definitely need to check out.
California Delta
If you're an angler that enjoys mixing things up, there's really no better spot than the California Delta. These brackish waters make for the ideal home for a range of fish, from several species of bass, catfish, sunfish, and shad, to trophy catches like trout, chinook salmon, and the mighty sturgeon. You'll also be able to fill your cooler with some tasty crawdads for a delicious dinner.
San Francisco Bay Area
If there's only one place that you're able to explore in northern California, we suggest the beautiful San Francisco Bay Area. Fishing in this area is productive and diverse year-round, and you'll be able to choose between saltwater and freshwater catches with ease.
Some of the most common catches include chinook salmon, striped bass, and sturgeon, as well as lingcod, halibut, white seabass, rockfish, and a variety of sharks. The possibilities really are endless in San Francisco.
Bodega Bay
Freshwater fishing is highly popular in northern California, but ocean fishing is no less appealing. Bodega Bay offers excellent fishing opportunities for halibut, lingcod, salmon, and rockfish.
The further you travel offshore, the more you are going to run into albacore tuna bites during the summer months. Crabbing is also quite popular in Bodega Bay.
Sacramento River
Do we even need to introduce this stunning body of water? The Sacramento River is a popular spot for salmon anglers seeking trophies, and for good reason. 30-pound chinook can be found all along the river throughout the fall What's more, there are some fantastic opportunities to catch striped bass, trout, and sturgeon.
So where will your next trip be? We hope you enjoy it using the information above!