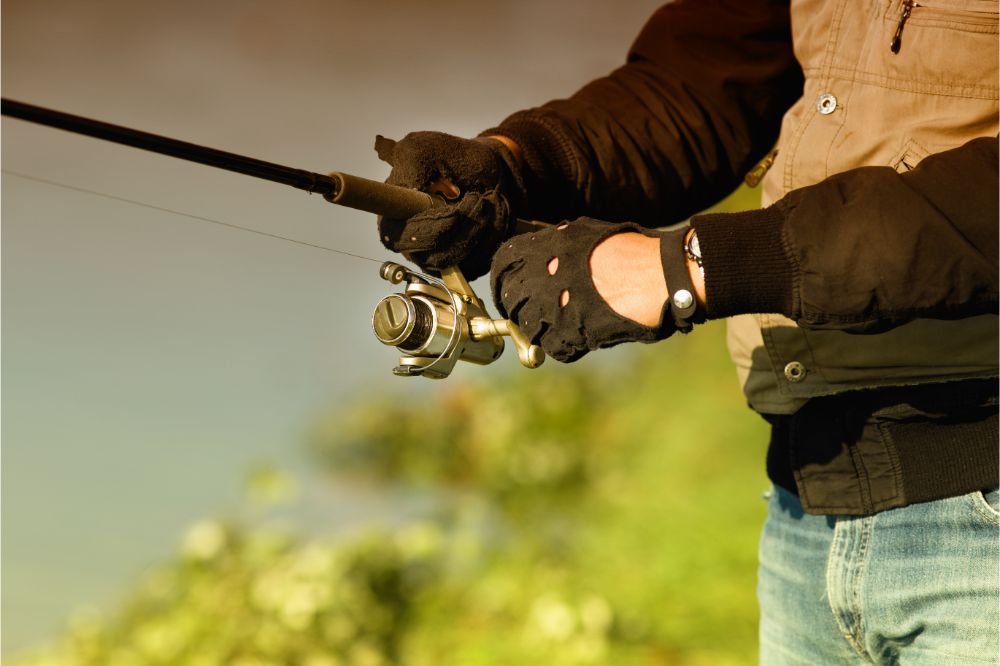 Top 5 Saltwater Fishing Gloves for [2023]
Welcome to our guide to the Top 5 Saltwater Fishing Gloves. For avid anglers or fishing enthusiasts, preparing your gear includes having the right gloves before you venture into the world of saltwater fishing.
In this article, we will evaluate the best saltwater fishing gloves available online using in-depth reviews, various pros and cons, and a comprehensive buyer's guide. Both comfort and protection are our priority. So, let's dive in!
Fish Monkey UPF 50+ Exposed Fingers Quick Dry
The Fish Monkey Fishing Guide Gloves are a fantastic addition to any fishing arsenal. With UPF 50 sun protection, they guard against harmful UV rays all day long. The gloves have a non-slip silicone palm print, providing superior grip and control while reducing hand fatigue.
Additionally, the gloves feature quick-dry breathable synthetic fabric, ensuring all-day comfort no matter how long you're out on the water. The gloves also come in a variety of colors from bold blue water camo to a subtle light gray.
Extra features include special padding on the thumb, index fingers, and side to help prevent cuts, making them not only practical but safe. The superior second skin fit ensures a firm grip and complete flexibility. Whether boating, poling, or fishing, these gloves offer high-quality protection and comfort.
Pros:
1. Provides excellent UPF 50+ protection from the sun.
2. They fit well and like a second skin.
3. Effectively guard against fishing-related abrasions.
4. Material has a superior non-slip grip that is perfect for holding fishing rods.
5. Comfortable to wear, even for long periods of time.
Cons:
1. Quality control seems lacking as some gloves were received with incomplete stitching.
2. These gloves may not be ideal for individuals with larger hands, as they tend to run small.
3. Durability could be improved.
4. The wrist area could benefit from better sewing.
Drasry UV Protection Fishing Fingerless Gloves
Drasry brings a glove that not only offers top-notch protection from harmful sun rays with its UPF 50+ and SPF UV Protection but also ensures its wear-off resistance even when wet.
The gloves are made from a fabric blend – 45% polyester, 10% spandex, 22% nylon, and 23% PU, promising durability. Designed with partial synthetic leather and silicone dots, they reinforce better grip while protecting your hands from blisters and calluses.
These gloves are machine washable, adding to their practicality. Features like a sweat-absorbent terry cloth add to the comfort, ensuring that you remain dry after strenuous activities. Lightweight, breathable, and quick-drying, these gloves work well for various outdoor activities and come with an easy-to-wear or remove design thanks to wrist pull and finger-tip pull design.
Pros:
1. Multipurpose: Suitable for a multitude of outdoor activities including fishing and kayaking.
2. Design: The lightning print design on the glove's backhand is aesthetically pleasing.
3. UV protection: Offers UPF 50+ protection from the sun.
4. Cooling: The thin material keeps hands cool without overheating.
5. Improved grip: Ideal for individuals with weak hand grip or arthritis in their hands.
Cons:
1. Size discrepancy: Several reviews mentioned the gloves fitting larger than expected.
2. Padding: Some users reported the palm padding was insufficient for intense water sports, so consider your specific need before making a purchase.
3. Durability issues: Some reviewers reported quality control problems like ripping seams and premature wear.
4. Material issues: A few users mentioned the gloves are a bit thin and flimsy
5. Grip: There is a lack of a gripping surface on the gloves' palms, so consider your activity requirements.
Tough Outdoors UV Fishing Gloves
Having explored the Tough Outdoors UV Fishing Gloves, it is apparent that they provide great features ideal for fishing and water-oriented activities, such as canoeing, kayaking, and jet skiing. The gloves are made with UPF 50+ SOLARSKINZ fabric, capable of blocking 98% of harmful UVA/UVB rays, even when they're wet or dry.
They have a long cuff for extra coverage, adding to their exceptional sun protection. The gloves' synthetic leather composition not only lends comfort and durability but also enhances grip, especially in wet conditions. These fishing gloves effectively guard against abrasions, rubbing, and calluses. Thanks to their lightweight and breathable fabric, these gloves ensure comfort and protection in any environment. With two sizes available, they can be used by men, women, and even teens.
Pros:
1. The Tough Outdoors UV Fishing Gloves are designed to keep your hands protected against the sun's harmful rays.
2. Their fingerless design is ideal for maintaining dexterity while fishing, paddling, or sailing.
3. These gloves are made to be lightweight, allowing for maximum comfort during use.
4. Their price point is attractive in comparison to other gloves on the market.
5. Some users found them effective in helping with calluses.
Cons:
1. Certain users found the build quality to be lacking, experiencing some unraveling at the fingers.
2. The fabric could benefit from being a tad thicker, adding to overall durability.
3. Sizing was a slight concern for a few users, consider ordering one size up for optimal comfort.
4. A few users reported the gloves did not prevent blisters.
Palmyth UV Protection Fishing Fingerless Gloves
Palmyth UV Protection Fishing Fingerless Gloves offer a fantastic mix of comfort and function. The gloves have a UPF 50+ rating, woven directly into the fabric for robust sun protection that won't wane with washing or wear.
One standout feature is the partial synthetic leather reinforced palm, designed for durability and improved grip. It allows users to firmly grasp fishing rods, paddles, or trekking poles, providing protection against blisters and insect bites.
The 3/4 finger length ensures full finger maneuverability, while the fabric is impressively lightweight, breathable, and quick-drying. Importantly, these gloves can be easily donned and removed thanks to wrist and fingertip pulls. They're machine washable, perfect for intense, sweat-inducing activities, and are a recommended choice for outdoor athletes, fishermen, and anyone vulnerable to skin cancer.
Pros:
1. Provides UV protection, ideal for those outdoors or driving.
2. Aesthetically pleasing design.
3. Versatile for various outdoor activities.
4. Comes in different sizes for a more personalized fit.
Cons:
1. Despite being designed to prevent blisters, seams may cause discomfort in some users.
2. The gloves' drying capability could be enhanced for better user comfort.
3. The gloves' fit might be a bit snug for some.
4. The abrasion-resistant material doesn't cover all areas.

KastKing Sol Armis Sun Gloves
KastKing Sol Armis Sun Gloves offer crucial hand protection for outdoorsmen and women. The gloves' UPF 50 rating ensures excellent sun protection from harmful UV rays. Additionally, they're made of breathable poly-spandex material to keep your hands cool and comfortable all day long.
Challenging outdoor tasks are not an issue, thanks to the gloves' four-way stretch fabric which enhances dexterity for changing hooks, bait, or landing fish. The microfiber-reinforced palm regions and integrated pull tabs further extend glove life and provide extra padding. True to their style, KastKing employs Prym1 Camo, an original creation by wildlife artist, Stacie Walker, for an added dash of fashion.
Lastly, these gloves are machine washable after a hard day's fishing, making maintenance a breeze.
Pros:
1. Great for handling fish due to excellent grip.
2. Provides protection while still allowing fingers to perform tasks like tying knots.
3. Non-bulky design means easy storage and carrying.
4. Ideal fit, even for smaller hands.
5. Extremely comfortable with good breathability; you forget they're on.
6. High-quality craftsmanship with appealing color options.
7. Excellent sun protection, beneficial for those with sensitive skin.
8. Suitable for a variety of outdoor activities, not just fishing.
9. Fashionable design for more style-minded wearers.
10. Good value for the price.
Cons:
1. Gloves may not hold up extremely long, but their performance during their lifespan makes it worthwhile.
2. Some users may need time to adjust to their look, but functionality trumps aesthetics.
3. These gloves may take a bit of getting used to if you usually prefer fishing barehand, but the added sun protection is an excellent trade-off.
4. If you're a year-round angler, you may need to replace them once a season.
Conclusion
To conclude, the top five saltwater fishing gloves for 2023 offer sun protection, quick-drying capabilities, a non-slip grip, and comfort.
Whether you choose Fish Monkey, Drasry, Tough Outdoors, Palmyth, or KastKing gloves, you're investing in quality gear. Consider your personal preference in design and specific needs when making your choice. Happy fishing!